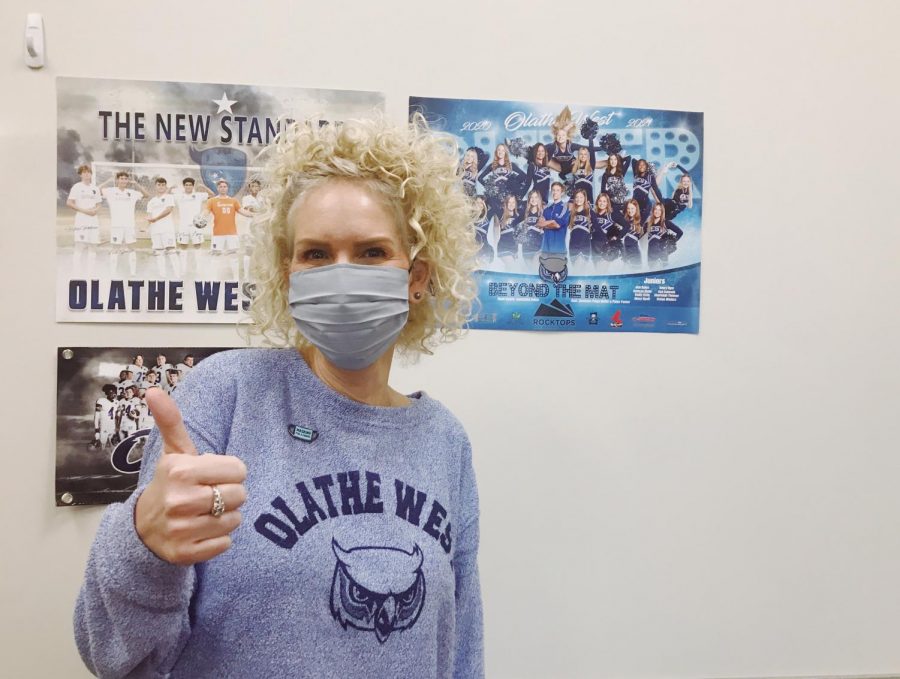 Cache Goracke
If you've ever had a medical emergency during school hours, or even if you needed something as little as Ibuprofen or a water bottle, you may have met general education school nurse Sara Anderson. Anderson has long been in charge of things like emergency action plans, healthcare plans, and taking care of medication orders for students who need medication at school. COVID-19, however, has called for some changes in the normalcy of the jobs yearly routine. 
The tedious process of contract tracing falls on the shoulders of the school nurses. If a student tests positive for COVID-19, it is Anderson's job to start investigating who they have been in contact with in the last couple weeks, and immediately contact those people. 
"Contact tracing has kept us busier than we have ever been in the history of school nursing," Anderson said. "The amount of paperwork it takes, the time it takes to talk to families about quarantine versus isolation, and when they can get tested, and what the symptoms are, and when they can come back to school–and you know all of those conversations and emails take a lot of time."
Anderson also discussed the many changes that have taken place this year, in both preparation of the nurse's office for the school year and also in student's behavior. 
"We have a special room as an isolation room," Anderson said. "We requested at the beginning of the year that we made extra first aid kits that had a really beefed up supply. Normally we just had gloves, bandaids and what we call a dental towel. This year we ordered a box and we put stuff like contact solution, safety pins, contact cases. We put a lot of extra stuff to minimize the traffic in here in case we had COVID illness. We didn't want to expose healthy students."
Anderson has also noticed an eventual change in the reason students have been visiting her office. 
"More students have been coming in who are truly sick," Anderson said. "We're not having as many people come in for, say, water bottles or hygiene products. We're having more people who want to be here, but they realize they can't be here, or their parents made them come and try school."
Nurse Anderson, along with others in the office, was able to take part in giving the first Olathe Public Schools staff vaccine clinic, last Thursday and Friday, in order to administer vaccines to staff. Anderson herself has received two doses of the vaccine and is hoping there will be improvement in the way Johnson County is able to distribute them.
"The federal government gives vaccines in a quantity by their state population," Anderson said. "Johnson County has 20% of the population, but we're not getting 20% of the vaccines, so you can see the obvious inequalities there."
Along with concerns about vaccine distribution, Anderson also shared that she has some concerns about going back to all-day, in-person school on March 1.
"I have some concerns  when it comes to lunch," Anderson said. "Because I just don't know the plans yet. I'd like to be involved in those conversations."
Ultimately, according to nurse Anderson, the overall spread of COVID in schools is not as big of a threat to our community as the spread of COVID outside of schools has been. 
"It's prevalent within the community," Anderson said. "So all of the schools are having some impact, but there has not been the spread in schools like the media has talked about. It really is happening outside of the school, so that is good to know."