The 270 is Finally Ready to Go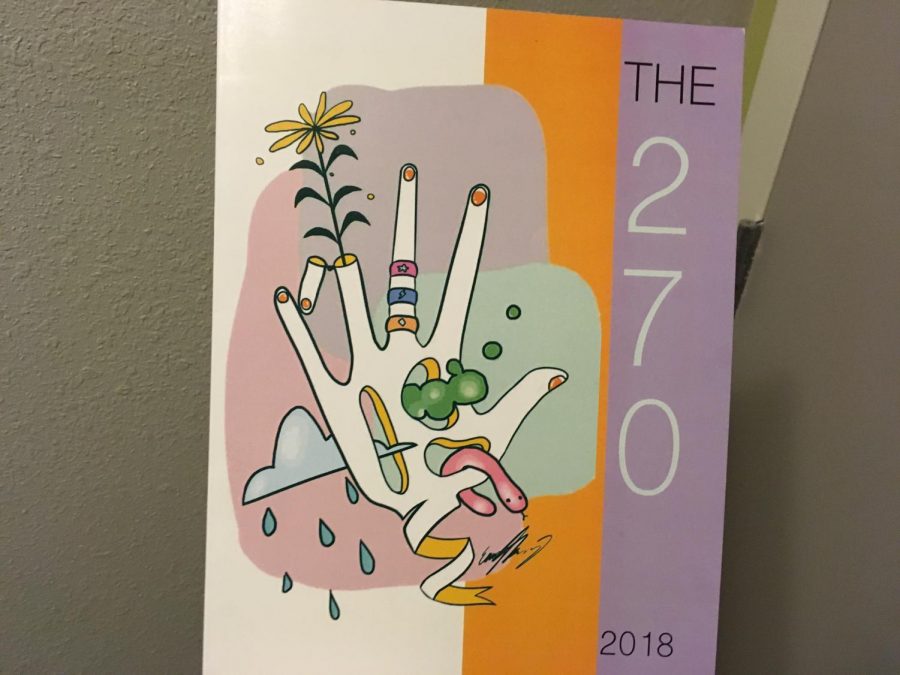 Peyton Carley
December 21, 2018
In a world where almost everything is controlled and operated on phones and computers, it's good to have things that keep us away from that. With the leadership of teacher Peter Mishler, Olathe West released a Literary Magazine, known as The 270, that will feature all kinds of student-made art and writing.
"The Literary Magazine is a student-led project that will feature types of poetry, fiction, and non-fiction writing along with visual art," Mishler said. "It is all submitted by students, and the magazine is also edited, designed, and all submissions are handled by students in the club. It is very hands-off as far as teachers being involved in the process."
Last year was the first year the Literary Magazine was attempted. The group met every Wednesday during Power 50, but that proved to not be good enough to meet the deadline of releasing the Magazine. They were never able to release an official published magazine last year. But this year, much more time from the team was dedicated to getting it done.
"This year it was worked on almost every third hour," Mishler said. "The designer and one of the main editors worked on it every day. So that would mean 45 minutes every day somebody was working on it."
With any job in any profession, it will take a team of people to work on a project. The 270 is no exception. The old saying "divide and conquer" served a big role in the creation of the Magazine.
"We have two Co-Editors in Chief, and different editors responsible for the different genres of work we receive," Mishler said. "We have designers who specifically design the cover, we have someone who does social media coverage for us as well, and we have someone who handles all of the submissions and also people who simply read the submissions and decide if they like them or not."
The estimated total of submissions dealt with throughout this whole process was around 100-120 submissions from about 30 students. As stated before, The 270 is a student-led club within the school. With that, Mishler said that is what he is most proud of.
"I didn't do any of the work," Mishler said. "I just set them up to run things and they did the rest. The deadline I gave them last year to be finished with it was in April and it didn't get done. It's now coming out next week so that means it's nine months late. As a teacher, I feel that it's my responsibility to bail them out and make sure things work. But I decided not to do that and let the students truly work on it until it was done. That's what I'm most proud of, the fact that I can say that they did everything they needed to make sure it was completed."
As stated before, Mishler started the club himself but then released it for the students to take control. Co-Editor in Chief Catherine Dandy was able to attest that statement.
"Mishler does run a little bit of it," Dandy said. "He gave us submissions to look over and we all collectively accepted or rejected them. But it is definitely a student-led organization. Mr. Mishler is really there to guide and help us when we need it because none of us really had any experience working with a Literary Magazine. But some of us had at least an idea of what we were doing so Mishler was there more as a helper to us."
The literary magazine was started last year, but was not completed and was that way until this year. Part of the reason for that could have been a lack of organization, time, and experience.
"Last year we didn't have any editors to work on it," Dandy said. "We only had time to meet one time a week for just an hour and that wasn't enough time for us to finish. Everything was a mess last year. We weren't very organized and there were all these different details we didn't think about last year and we had to figure it out this year."
Even with all of the complications with the magazine, they were able to produce a finished project, and everyone is very proud of the work they did.
"It was good to see the difference in producing a yearbook versus something like this," Dandy said. "I'm just proud that we got it done. At one point I was saying I don't really care what it looks like or how it goes, I just want to get it done. But after making it, I realized I cared about it a lot more than I thought."
The 270 literary magazine will be released to the school next week that will feature all kinds of work from students around Olathe West.