Katie O'Keefe: A Helping Hand in Horticulture
Katie O'Keefe finds a way to include CBR students in horticulture activities
On a Wednesday in January, the students in Mr. Oberhelman's horticulture class sat in their usual seats and brainstormed for a way their class could include the CBR kids, or the special education students, in their activities. By the end of class, they weren't set on anything specific, but Katie O'Keefe had an idea.
The task was to incorporate the CBR class in with horticulture while keeping them productive, occupied, and having fun. Junior Katie O'Keefe took this task on herself without even being asked. After brainstorming with Oberhelman and the rest of her class, O'Keefe went to her photography teacher, Mrs. Howe, borrowed a camera, and got to work. She took numerous pictures of the different plants in the greenhouse located in the horticulture room at West and printed them out. After printing, she laminated each picture and brought them to class. Her plan was to give one to each CBR kid and have them go find that same plant in the greenhouse.
When she showed up to class with the activity, the teachers, as well as the CBR kids, were thrilled.
"Without even telling me she just did it. I got all choked up and almost cried," Oberhelman said. "The department head for the CBR kids sent me an email thanking me for what Katie did. She's reaching out to kids who don't get any attention and making them feel special."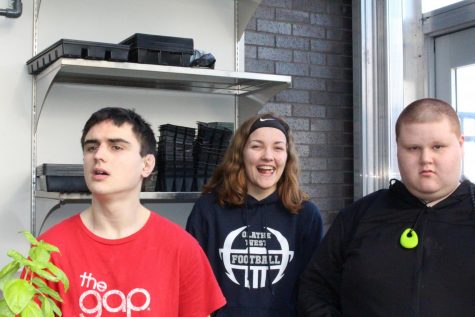 Currently O'Keefe and one of the CBR teachers are working on writing the names of some plants in braille so that Ryan, a student from West who is blind, can also participate. She mentioned giving pictures of the stronger scented plants to Ryan so that he can look by reading, smelling, and feeling.
"I don't really need to be recognized the kids were super happy about it and I already know it," O'Keefe said.
Despite this, the head of the CBR department in an email to Oberhelman said they wanted her to be recognized in hope that what she did would spread to other students and encourage them to take initiative and responsibility as she did.