NFL Free Agency: Cleveland the Front-Runner, Pittsburgh the After Thought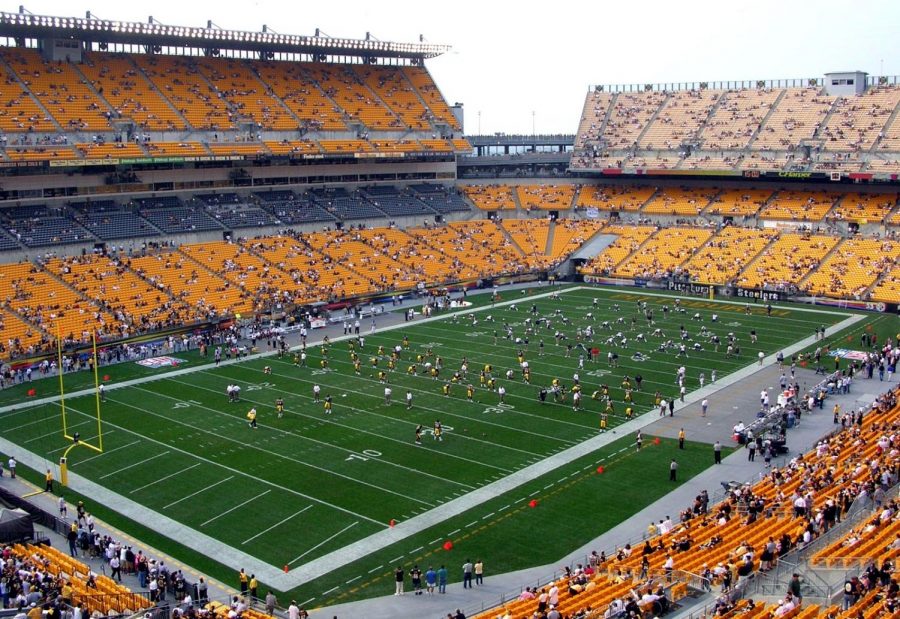 Peyton Carley
April 27, 2019
Alright Cleveland, all eyes are on you, and it's not because of Lebron this time, or the Indians in the World Series. No, we are actually here to talk about the Browns, Yes you heard right, the Cleveland Browns are now a talking point in the sports world. Not because they're the laughing stock of the league anymore, but rather because, they are contenders. Wait, is that right? No it can't be, the Cleveland Browns are not a playoff team? They just went 0-16 two years ago!
Well, look at them now. Number one overall draft pick of last year Baker Mayfield shows promise. Kareem Hunt and Sheldon Richardson will add to the backfield and the trenches. And the biggest shakeup they caused, the Odell Beckham Jr. trade. Adding him with Jarvis Landry, who was his teammate in college at LSU–wow, the Browns have a lot of talent.
The contrast that the sports world has automatically drawn to the Browns, is their division rival, the Pittsburgh Steelers. The contrast we see is that while the Browns have bulked up and loaded stars on their team, Pittsburgh has let go of arguably their two best players over the last two years. Le'veon Bell refused to play and is now with the Jets, and the Steelers traded Antonio Brown to Oakland. And after all of this happening, the Browns are now the favorite to win the AFC North, and the Steelers are picked now for third in that division.
Let's take a step back for a second. Take a deep breath and just analyze the situation. Yes, Cleveland has a lot of talent, A LOT of talent. They treated themselves in free agency and loaded up their offense. But I will remind you, that new head coach Freddie Kitchens has never been a head coach, only a coordinator. That's a huge difference. This locker room has a lot of players with a lot of egos now. Myles Garrett is going to want to earn his due when his time comes, Odell is going to want a contract extension, and Kareem Hunt is going to be gone for the first eight games of the season, meaning Nick Chubb will be starting. But when he comes back what then? The head coach has to facilitate all of this. Not only will he manage the locker room, but also call plays and manage things on the field as well.
Last season, the Arizona Cardinals hired Steve Wilks as their head coach. It was his first season, he inherited a bad team, and now he no longer has a job. Kitchens is a rookie head coach, having to deal with the often emotional Odell and the second year quarterback Baker Mayfield who has his moments. The expectations of the Browns this season are higher than they've ever been. But I will remind you that this team is just two years removed from an 0-16 season. Mayfield now has a few games under his belt, what do we expect from a whole season from him? And what's gonna happen if their season goes downhill and the once highly praised Browns are now in the pits of the division. I'm not saying that it's going to happen, but just take it easy. This is a young team, with a rookie head coach. But to say that Cleveland will win the division, and Pittsburgh will be a lowly third is reaching a bit.
To add on, we have seen the Browns go out and grab huge names in free agency, but we all need to understand that that's not the best way to build a team. Look at the Patriots, and the Cubs in baseball and the Spurs basketball. Those teams built from within, and through the draft. All their players went through the system of that team for years, and they became successful. The Patriots have six super bowls, the Spurs are historically great under Greg Popovich, and the Cubs won the World Series back in 2016, and to this day in 2019 they still have almost the same roster as back in that season. So who are the coaches or managers of these teams? Bill Belichick of the Patriots has been coaching since 1991, Gregg Popovich will be going to the playoffs for the 21st straight time this season, and Joe Maddon has over 1,000 wins in his career. Coaching and chemistry matter in sports, and probably in Football they matter most. Don't go thinking that all these free agents and Freddie Kitchens will fix the woes of the Cleveland Browns because they probably won't. Will they help? Yes probably, they hold ton of talent in Cleveland right now, but they haven't played a single game with these new guys or Kitchens as head coach.
When you look at the Steelers, yes things will be different this season. When your leading target and number one receiver leaves the way he did, things will be different. You can't replace Antonio Brown. He was arguably the best wide receiver in the game five the past five years. And yes, Juju-Smith Schuster will step in as the number one receiver for Pittsburgh and I think he will do well, but who's going to take over at number two? Will Donte Moncrief be able to replace Juju? He's a good player, and Ben Roethlisberger is as good as any quarterback in the league at creating talent, but I don't know that either him or James Washington will be able to be reliable at that position.
But you do realize that the history of the Pittsburgh Steelers is that they are winners. They have a franchise that is historic with winning and coaching. Pittsburgh is never ever picked to finish in the bottom of their division. So can we all agree to say that the Steelers will be motivated this season? Juju will want to prove his worth and takeover the spot that Antonio Brown abandoned, and Ben Roethlisberger will want to prove that he was not the cause of the disappointing season or the stars on their team leaving. The Steelers will be going through a culture change. The head-case in Antonio Brown is gone, money-grabber Le'veon Bell is gone, and this Pittsburgh team has something to prove. Roethlisberger is no longer doing his radio show after games during the week, and the Steelers are filtering out all of the drama queens and annoyances in the locker room.
Listen, I'm not saying that Cleveland won't win the division or that the Steelers won't finish third. But these are different teams, with different payers, who have just gone through drastic changes. The Browns are two years removed from going 0-16, and the Steelers are trying to bounce back from a disappointing season. Let's catch our breath. The Steelers aren't going to just disappear, and Cleveland is on the upward trail, but none of us know how this team will work.