Carrying the Colors
Students who Present the Colors and represent their Academy
When Athletic Director Pat Butler, approached Detective Brent Groves about getting a group of students together to present the flags at the boys state tennis conference last spring, Groves decided to take it a step further. 
"I've been in the military," Groves said. "I went to military school as part of the honor guard Rifle Drill Team. I didn't want to do anything halfway. I decided we could do something a lot better than that."
Groves works for the Olathe Police Department and was assigned to teach law enforcement to Olathe West's Public Safety program. He is also the founder of the honor guard, although he credits all the work to the kids involved. 
"The true credit goes to the kids," Groves said. "They just took to it. They were motivated enough that in two weeks they went out and were hounding me for practice. So we practiced and we practiced every day." 
The honor guard made its first debut at the boys tennis state conference, and according to Groves, "exceeded expectations." They then made an appearance at the very first Olathe West graduation.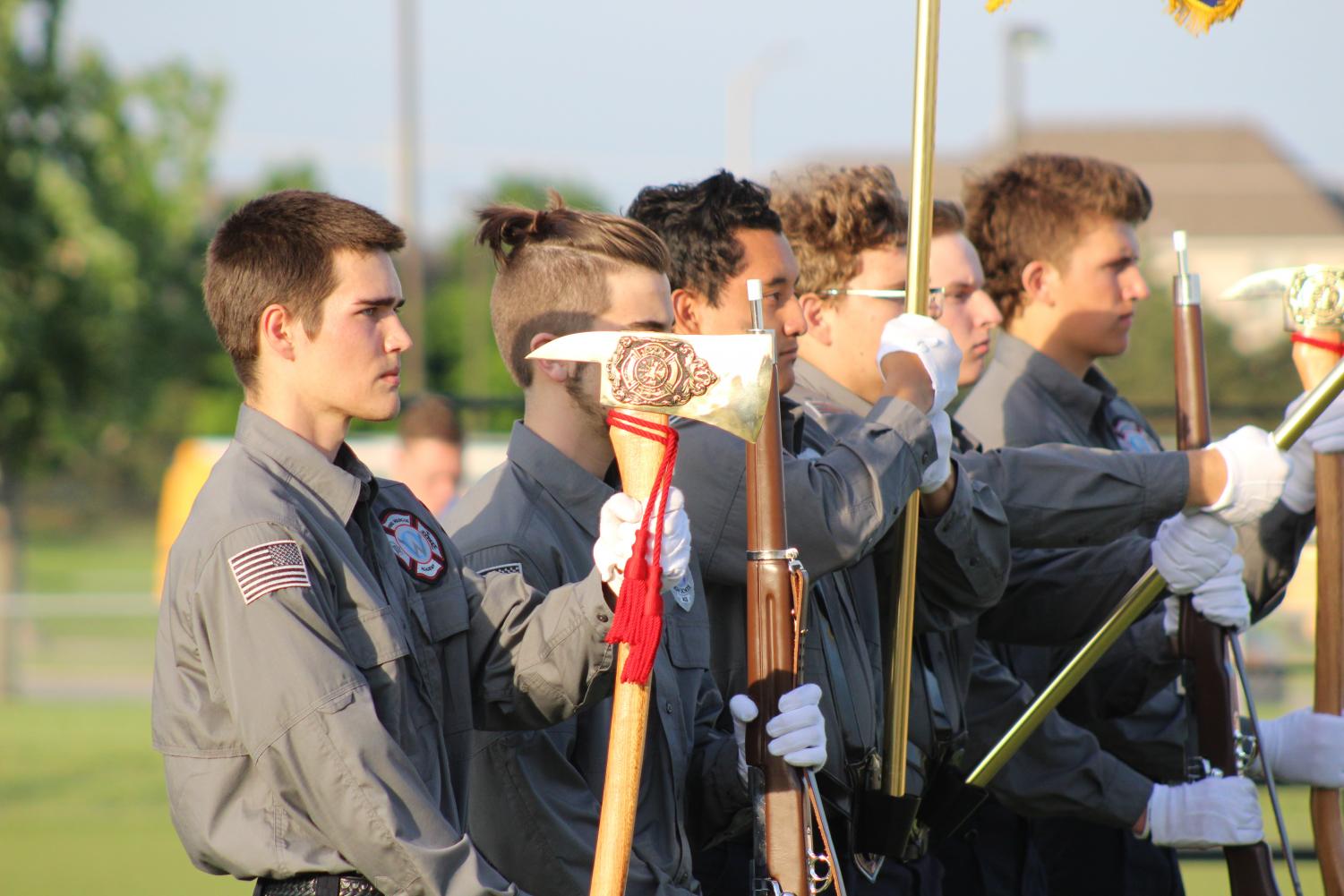 "That was phenomenal," Groves said. "People couldn't believe it. Especially the veterans you could see in the audience, as they stood as the flags came by. They were really impressed. They asked me later, 'How long have they been practicing for that?'" 
One of the first members of the honor guard, Sam Verhulst, explained why he chose to take part. 
"I get to represent people that did stuff for us, you know," Verhulst said. "People that died for us." 
Verhulst is a proud member of the fairly, new-to-west, honor guard. With a great grandpa that served in World War II, two uncles who are cops, and a third uncle who is a firefighter, he is greatly inspired by the law enforcement members of his family every day. 
"As soon as I get out of high school, I want to get on a truck and start firefighting," Verhuslt said. "It's physical work that no one else wants to do. You get to mess with hoses and the fire truck all day. But you're also helping a lot of people. When they call you, it's either the worst day of their life or someone else's worst day of their life, and you get to step in and help them out." 
Verhulst explained that when the kids first decided to start the honor guard, there were about six of them. Eventually, they grew to be about 12, but while the group is still new they are expecting it to grow.  
Practices are held during Power 50 on Tuesdays and Thursdays, although when it first began, many of the kids said they practiced every day. According to Verhulst, they are working on getting their uniforms modified to further identify them from the rest of Public Safety. 
As of now, there is no application process to join. The only requirements are a 3.0 grade-point average, and a good work ethic.
Senior Delilah Poole hopes that being part of the honor guard will give her a smooth transition into the military after high school with the continual practice it offers on how to communicate with commanding officers and others in charge. 
The relationship between the members of the honor guard is something that many of its members agreed on also. Many of them are working towards similar goals after high school and in college. Poole explained the relationship further, along with what being a part of the honor guard means to her. 
"Honor guard is a group of people that have pride in their country," Poole said. "They depend on each other as a family and they represent something everyone respects."