Band Concludes Marching Season with Many Achievements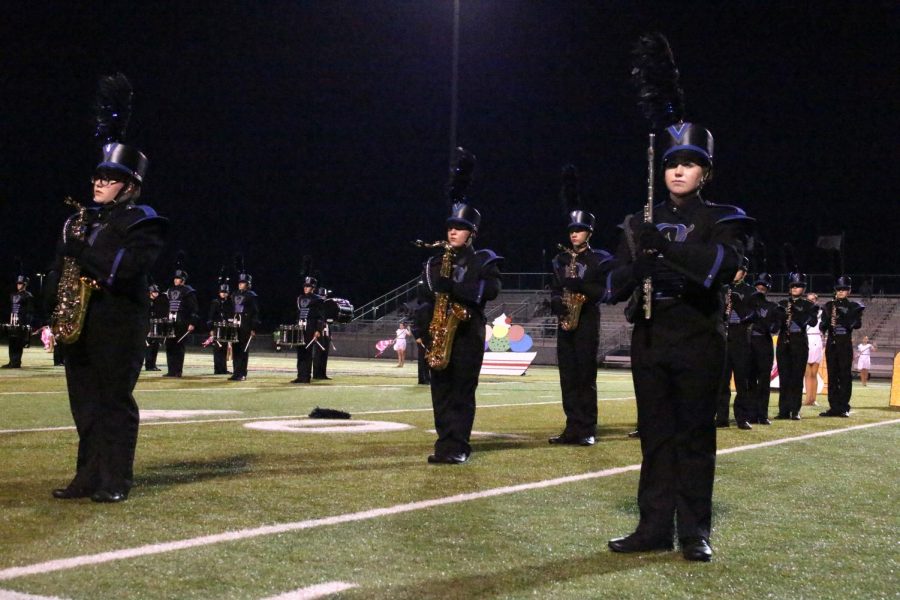 There's a team of students here at Olathe West that a group of nationally certified judges believe to be perfect at their activity. A group of students who perform with such gusto, their presence can be felt half a mile down the road. A group of students who often practice before, during, and after school, yet barely break a sweat doing so. These students are the students of the marching band.
"So far we've done pretty well," said junior trombone player Justin Sumpter. "We got a one [rating], which is the best rating you could possibly get over at K-State."
One might argue that to say they've done well would be an understatement when they've achieved a perfect score at a nationally recognized school's band festival. \
"The last festival [at K-State] we got the highest rating," said junior trumpet player Kalie Traverse. "They grade you from one to five, one being the best, pretty much 100%, an A."
After K-State, the band looked forward to the opportunity of competition with other programs.
"We'll perform our show, which is called 'Suite Life' for the judges and then we'll be ranked against other schools, but other than that it's just like any festival," Traverse said.
At the Park Hill Marching Competition, the band placed fourth, and at the UCM Festival of Champions, the band earned the Top Percussion award and third place in the Red Class. Even with their success, marching band never took their foot off the gas when it came to training.
"We just had a representative visit from K-State," Sumpter said. "It's good to get fresh eyes on your performance because it's hard to realize if you've been practicing the wrong way when you get used to your sound."
The hard work paid off when the band earned Best in Class in the Black Division, Best Percussion and Best Colorguard at the final competition, Neewollah Marching Festival. 
As far as the band training and lifestyle goes, it seems to have more in common with football than a group of teens playing around with instruments in their friend's garage.
"It takes more time than you would actually think," said junior Drum Major Sophie Stone, "Seven a.m. rehearsals every single morning, except for Thursday, and then we have some rehearsals in the evening, and competitions in October every single weekend."
For some band members, being in band means much more to them than just the activity itself.
"Music has had a big impact on my life," Stone said, "I've had rough times but It's helped me out through that stuff, and I've made a lot of really good friends through band. Those are my people, band is my family."