Out-of-State Pursuit
Ellie Steere explains her excitement to leave high school and attend out-of-state college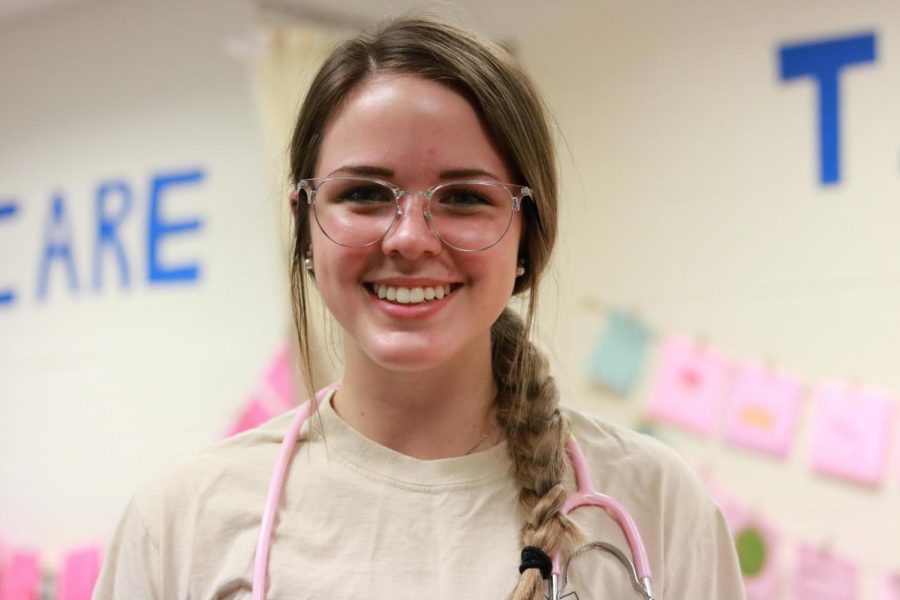 Allysa Moore, Contributing Writer
November 7, 2019
Friday nights in Kansas oftentimes consist of attending a varsity game and then wandering around Walmart until being asked to leave. That's why senior Ellie Steere cannot wait to get out of Kansas. Along with many other kids, Steere believes that Kansas is boring.
"There's nothing really to do in Kansas besides driving around with your friends which is fun like late at night just driving around, having fun, listening to music, but there's nothing really big," Steere said. "You can't go hiking in the mountains. You can't go to the beach a couple hours away."
Steere is so eager to leave she is willing to move nearly 2,000 miles away in order to attend Grand Canyon University in Phoenix, Arizona.
"I have a friend that goes there and I'm a big fan of the heat," she said. "I don't do snow; [I] hate snow. And based off grades, you can get immense amounts of scholarships, [so] it's super cheap. It's cheaper than going to KU or K-State."
Grand Canyon University's Nursing and Health program is ranked sixth of its most popular majors. This, plus all of her family's history in the medical field, is what inspires her to study pre-med.
"Most of the people in my family…[are] in the medical field," Steere said. "Like, some of my cousins deliver babies and all that stuff and so I've always wanted to be in the medical field but I just recently, like two years ago, decided that I wanted to do orthopedics especially since I've been hurt a lot. I know a bunch about almost all the anatomy and all the bones and stuff."
Another reason Steere is excited to leave is to not be required to take classes in which she has no interest.
"One of my classes I'm taking right now is my CNA class which is Certified Nursing Assistant or Aid," she said. "It's a healthcare thing where I get to go to [Olathe] North and JCCC. It's what I want to do in my future so I think that has a really big emotional tie because I feel like I excel best in that class because that's what I want to do."
But there are some things Steere will miss about high school. Including Buff Puff, Powder Puff, her friends, and the relationships with some of her teachers.
"One of my strongest connections is with Mr. Ledbetter, the art teacher, who teaches ceramics," Steere said. "I think I've had three classes with him and I'm taking his AP art class and he's also my advisory and seminar teacher but he's a really cool guy."
Although Steere is going to miss her friends at West and her favorite teacher, Mr. Ledbetter, she is very excited to experience different things with new people in college.