What Mattered Was the Final Second in the Fieldhouse
Owls react to the Sunflower Showdown at Allen Fieldhouse that ended with more passion than the game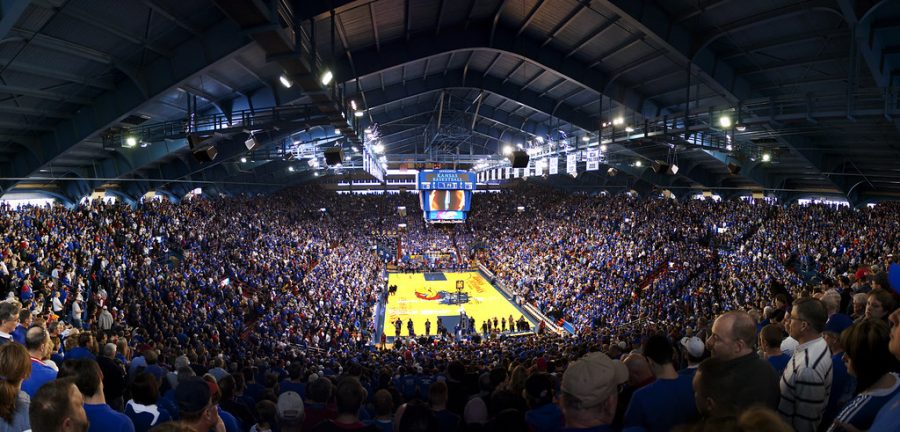 The Sunflower Showdown hasn't been much of a showdown for a while now. As far as basketball and football go, the Jayhawks lead the rivalry 192-93 in basketball and 65-44 in football. 
On Jan. 21, the showdown took place in one of the most historic venues in college basketball, Allen Fieldhouse. Kansas won by 21 and a local alumnus of Blue Valley Northwest, Christian Braun, had a career-high 20 points in the game.
Unfortunately, Braun's career numbers are not what people remembered after the final  0.1 seconds left in the game. Kansas head coach Bill Self substituted in Silvio De Sousa along with many of the non-scholarship players (or walk-ons). De Sousa appeared to be dribbling out the clock when DaJuan Gordon of Kansas State stole the ball, attempting to dunk in the closing seconds to score. De Sousa responded by chasing Gordon down and blocking the shot.
Many thought this is where it would end, but this is when the WWE-style action just got started. De Sousa then stood over Gordon to show a lack of respect, and soon after, Kansas State's Antonio Gordon was at the scene quickly appearing to shove De Sousa. 
 Instead of ending there, Kansas State's James Love III, in street clothes as he was injured for that game, squared up against De Sousa in the emptied handicap fan section. De Sousa then appears to grab a stool with the intent to do harm.
"They're grown men playing basketball," said junior Jamesperry Fraizer-Baker. "If you can't take a little bit of trash talk, maybe you shouldn't be playing in college." 
"
They're grown men playing basketball. If you can't take a little bit of trash talk, maybe you shouldn't be playing in college."
— Junior Jamesperry Fraizer-Baker
But then, De Sousa set the stool down on his own will, despite what first-perspective videos looked like. but the sight of De Sousa with a stool over his head will be remembered and the suspensions will need to be served.
"Obviously, it's an embarrassment," Self said in a press conference afterward. "It's not something you'd be proud of. This, what happened, is absolutely zero signs of toughness. It's a sign of immaturity and selfishness more so than toughness." 
As for confronting potential blame and punishment, both head coaches addressed the media after the game. Kansas State head coach Bruce Weber seemed to take blame, but said that he told the players not to foul.
"They were disappointed and frustrated," Weber said. "You don't want to take that fire out of their belly, but at the same time, you've got to handle it right and [we] created a bad thing." 
Both Weber and Self said they had turned toward each other to shake hands when the whole thing went down. Self had watched the video, but made a somewhat humorous comment saying "I don't have my reading glasses with me."
"It was obvious to me that we played a role in what transpired and there will be penalties for that," Self said.
These penalties began on the morning of Jan. 22 from Self suspending De Sousa indefinitely until the Big 12 was done with their investigation. Later Wednesday night, the Big 12 Conference came out with the suspensions. Kansas' Silvio De Sousa will be suspended 12 games and David McCormack, two. Kansas State's James Love will be suspended eight games and Antonio Gordon, three games. 
"I think a lot of people are disappointed with De Sousa, but I see why he got angry, with all these people surrounding him," social studies teacher Ashley Singaharaj said. "I think it is unfair that he has been suspended 12 games, especially because KU has done so much to keep him as a player."
After speaking to Kansas State fans at Olathe West, they consistently agreed that both teams played a part in the brawl, and Olathe West athletes had similar responses.
"I think they were very fair," football, powerlifting and track coach Kraig Goerl said.  "There's not room for anything like that in any sports." 
Two takeaways from this are that Kansas will be without two of their big men for the next two games, at home against Tennessee and on the road at Oklahoma State. This leaves Kansas with senior Udoka Azabuike without any rest for these two games.
Love, the redshirt freshman for Kansas State is currently out with a left foot injury and will be serving the eight-game suspension. Gordon, who had no effect on yesterday's game with 0 points and 0 assists off the bench, will serve a three-game suspension. So, just about nothing will change for Kansas State who will play away at Alabama, at home against Oklahoma and then away again at West Virginia.
"I think the lesson for our athletes is that we want you to play with emotion, energy and enthusiasm, but it should always be about your team," athletic director Pat Butler said.