Eighth Grade Transition Day at West
Eight Graders Visit West for a Day of Tours and Other Activities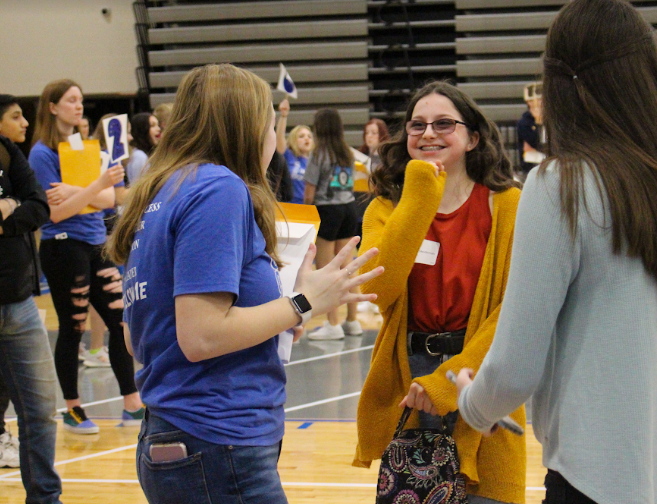 Wednesday, eighth graders from across the district visited Olathe West for Freshman Transition Day. Link Crew hosts this annual event in order to introduce the eighth graders into the high school experience.
"We just want the students to first and foremost get to know an upperclassman, become comfortable in our school and know that we want this to be a welcoming environment," said Link Crew Sponsor Melissa Cupp.
The link leaders guide the eighth graders through a day full of many activities such as team building, a tour of the school, a fashion show of West's different activities and sports, and an activity fair where they can learn more about them.
"I always really liked the fashion show and the activity fair," said senior Link Leader Katie Ullrich. "I think it gives them a good taste of all of the things high school has to offer."
The Link Leaders themselves are comprised of juniors and seniors, most of which went through Freshman Transition Day themselves, here or at another school.
"I remember my Link Leaders and they were great," Ullrich said. "We had a good time. We had a lot of good experiences through my freshman year and I wanted to be able to do the same thing." 
The Link Leaders prepare with their sponsors throughout the year before Freshman Transition Day begins.
"In May we have what we call a play-day, I actually treat them like the freshman and they go through the activities," Cupp said. "In early August, I actually train them and they learn how to take their freshman through the different activities and what to do if a problem arises."
The ultimate goal of Freshman Transition Day is to make sure all of the kids feel as if they fit in and belong at our school. 
"I think we are really building a culture of community here at The West," Cupp said. "Not everybody likes sports, not everybody likes theater or choir, some kids don't like school at all. We need to make sure they know we are still here for you."