Wrestlers Compete at State, Including Girls for the First Time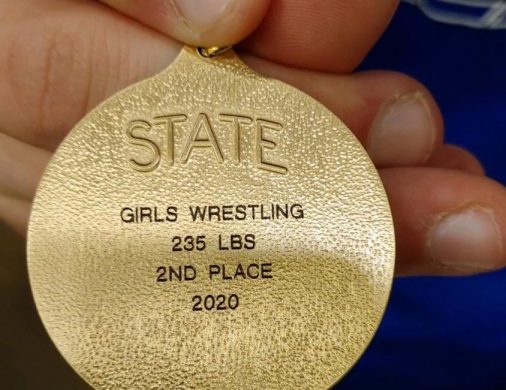 Every year, wrestlers who place in the top eight at the regional tournament have the privilege of qualifying for the state tournament in Wichita. This year was unique, however, because for the first time, the wrestling team sent our qualifying women's wrestlers to their own state tournament.
The women's state tournament was a historic event, not only because it was the first in Kansas, but also because we got the first state placer in Owls wrestling history, freshman Makayla Rivera at the 235-pound weight class. She wrestled her way into the finals of this landmark tournament and earned a spot in second place in the state tournament.
This was Rivera's first year wrestling, making her second-place finish more of a rarity.
"My friend made me go to the meeting," Rivera said. "Then she made me go to the conditioning, which was really fun, so I decided to do wrestling."
After Rivera qualified for state, she wasn't quite so confident she'd be as successful as she was.
"I was very intimidated by the other girls because they had a lot more experience than me," Rivera said. "But overall, it turned out to be really fun."
For the men's tournament, West had three qualifiers: Elijah Hann-Bluitt at 160 pounds, Ethan Weber at 182 pounds and Luke Zegunis at 220 pounds. 
Being that it is the last tournament of the year, and the benchmark of a wrestler's quality compared to the peers throughout the state, the coaches find it very important that their wrestlers are prepared to compete.
"Practices were always hard," said Hann-Bluitt. "Then when we got to the state tournament it was constant movement and constant pressure."
All in all, it was the most successful showing in Owl wrestling history, as all wrestlers ended up one to two matches away from getting to stand on the podium. Even then, they are still not satisfied.
"I wanted to be the first boys wrestler to place," Hann-Bluitt said. "Next year I'm gonna work harder in the weight room and work harder in the practice room."