Both Varsity Teams Claim Sunflower League Titles on Senior Night
Both our boys and girls varsity basketball teams claimed titles of Sunflower League Champions on their senior night, Friday, Feb. 28, and moved on into substate games. While the boys beat Olathe North in a comeback game 66-62, the girls actually lost their game to North. Their record, however,  was enough to bring them to the league title, tying with Blue Valley Southwest. 
Girls Game
The girls lost to North with an end score 45-56. The seniors started the game in place of the usual starting five, which point guard and junior Allyssa Moore believes may have been a reason for their rocky start. 
"I just don't think we were used to starting like that," Moore said. "It was kind of off from the beginning." 
Moore also noticed several defensive strategies that caused them not to be 100% that night. 
"They ran a lot of zone on us," Moore said. "And they're much bigger than us, so it wasn't hard for them to cover a lot of space. We really struggled with that. We also ran a man [defense] and they were able to capitalize with that. They could just drive and penetrate and get the foul every time."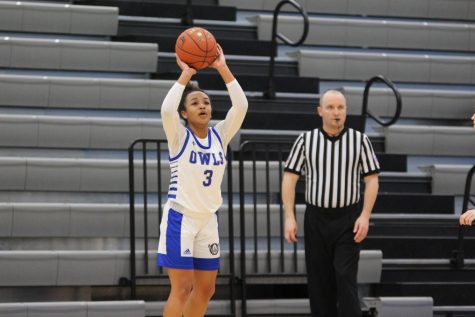 Many fouls were called on West that game, and multiple players–including Moore and junior point guard Makenzie Hart–got into foul trouble. This led head coach, Rick Rhodes, to put Jordyn Wilson in the game, a freshman who hasn't got a lot of varsity playing time. 
"I was a little bit of a nervous wreck," Wilson said. "But I knew that we needed a lot of energy, and I had to step up and see if it could get us back in the game." 
Loss aside, she made quite an impact on the final minutes of the game. 
"She did so much," Moore said. "She really stepped up and she was exactly what we needed that game." 
Boys Game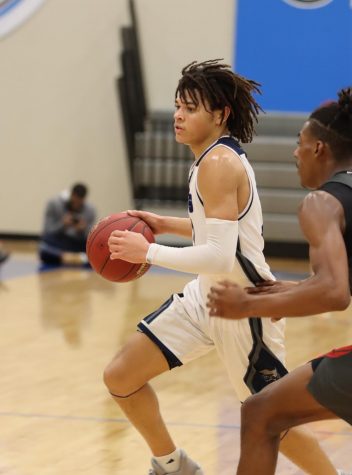 The boys started the fourth quarter down by 10. 
"We started off slow but we picked up as we went through the game," Fasuru said. "We just kept our heads high. Our energy was good."  
When asked what was going through his head during the game, senior point guard Cougar Downing said, "I just wanted to win the game really bad. Somebody had to clutch up. I had to be a leader and take over the game." 
Downing was a big part of the team's comeback in the fourth quarter, making three of his three-pointers in the fourth quarter and never missing a free throw. 
"It was a team effort though," Downing said. "I was still confident in the team. I believed that we could come back. I'm just glad we got the dub." 
The boys head coach Brad Ball described what he called a "shift in momentum" to their side.
"I thought that Olathe North was really good," Ball said. "We kept fighting and all of the sudden we just kind of caught fire."