Education Continues Amidst the Coronavirus
How Olathe Schools are Continuing to Handle Online School and AP Testing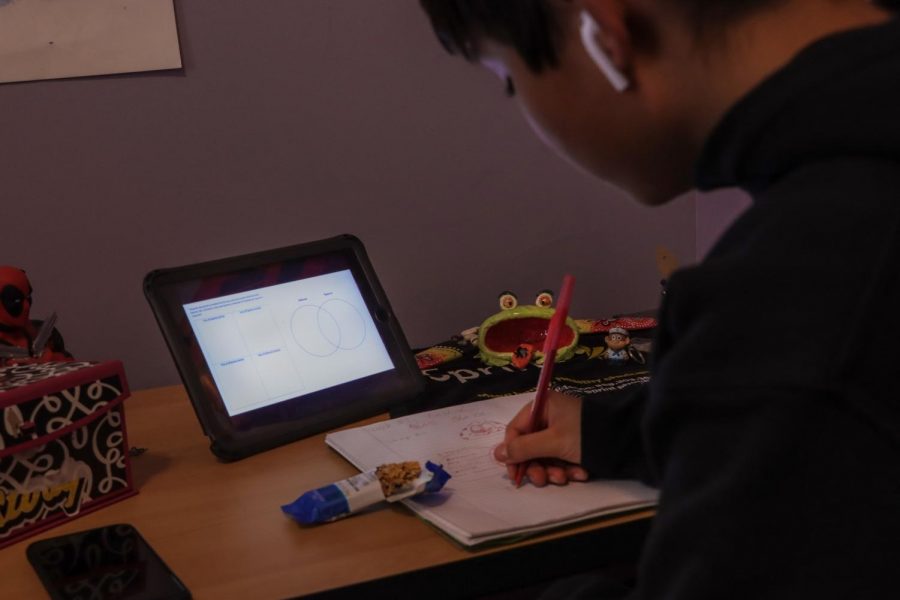 On March 17, Kansas Governor Laura Kelly shut down all school buildings in the state for the rest of the year in order to slow to a stop the spread of the ubiquitous Coronavirus. 
This preventative measure presents an unprecedented problem for the Olathe School District: how do you continue to educate students, without access to the important resources found in our school buildings?
Continuous Learning lessons are available on the Olathe Schools official website. Students will be able to find their classes under the link labeled High School. It will then lead you to more general subjects in which you can find the specific courses you are taking. Once you find these it will give you a list of weekly assignments you can complete at your own will and pace. If you have any questions more specific to your course you can direct them towards your teacher.
If students are satisfied with their grades in a particular class, they can opt to have those grades be frozen as their final marks for the semester. If they are not satisfied with their grades in a class, they can let their teacher in that class know, and the teachers will continue to offer those students curriculum and assignments to get their grade up. If they are in the camp of wanting to boost their grade, it should be noted that they'll only be able to raise it by 10% and that's if they perform perfectly on the assignments.
Students will also be expected to continue taking the course if they are in an advanced course and signed up for the AP test or dual enrollment through JCCC. Teachers will offer resources more specific to taking the AP test if that is the case. Due to the circumstances, AP tests will be administered online nationwide. If students are signed up to take an AP test and are no longer interested, they can pull out of taking it free of charge, a change from the typical policy.
Our very own Principal Novacek expressed his approval of the District's continuous learning plan on Twitter.
"I just did my first Continuous Learning lesson with my 5th grader," Novacek said. "It absolutely blows my mind that our district, our teachers & staff were able to put together such an incredible website and lessons in one week."
Overall, it has been stressed on countless occasions that the most important thing one can do is stay inside, so utilizing the resources at home is a must.