How Shutdown has Evolved in Kansas
A little over a month ago, on March 11, the Sprint Center in Kansas City held thousands of visitors from multiple states. The precautions taken then to weaken the spread of COVID-19 were small: for example, putting hand-sanitizer stalls around the crowded stadium. At that time, many people believed the virus was not important.
"I'm not scared," said Brandon Gregerson of Iowa in an interview with KCTV5, right before he and his child, 7-year-old Brody, walked into the packed stadium. "I kind of think everyone is overreacting a little bit. It's a virus. The flu's a virus. There's many viruses out there. A lot of people get those types of things. As long as you're smart, wash your hands, do all of the things that they're telling you, I think we'll all be just fine."
That same day, the World Health Organization declared COVID-19 to be a pandemic. The day after, Mayor Quinton Lucas declared "a state of emergency" in Kansas City. In the next week, more restrictions were put in place to limit meetings of people, business open hours, and more. Before the state knew it, it was in shutdown. It happened suddenly, surprising even Mayor Lucas.
"I think when we were walking down the streets during the Chiefs parade," Lucas said. "I'm not sure there was anyone in Kansas City who recognized that one month later we would be in an entirely different state of things."
Most people aren't sure what has occurred due to this different state, which has culminated a fear across the nation. Indeed, descriptions of the state of our world seem dim.
"Bars and restaurants [are] all but vacated until the contagion comes under control at some unknown date," said the Kansas City Star. "Streets empty. Churches empty; houses of worship try to minister to their faithful through live-streaming. Shops shut tight… Doctors and hospitals find themselves inundated with worried patients, clamoring to be tested. People's retirement accounts are in free fall, as the stock market craters".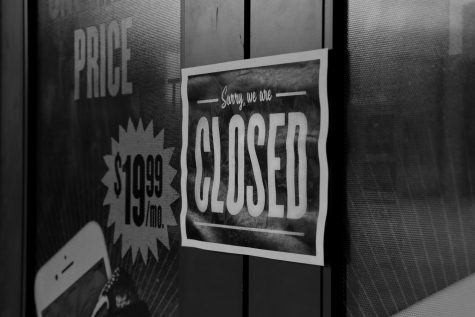 Indeed, much has been closed. Movie theatres, dine-in service, and gatherings of more than 10 people at a time have been suspended. Parks, such as Rosedale Park in Kansas City, have also been closed and gated from the public.
Still, some businesses are still operating and available to those who need them. In the Johnson, Jackson, and Wyandotte counties exemptions lay on governmental and judicial functions, health care facilities, private business operations, religious and faith-based activities, weddings and funerals. Restaurants may have carry-out, drive-in, and delivery services. Additionally, parks in less urban areas have been left open.
It is worth mentioning that even though exemptions have been placed on these gatherings, many have decided to close nonetheless. Many churches, for example, have either limited their open hours or closed down all meetings. 
To figure out if individual restaurants and businesses are open, it's recommended to check their websites/social media. 
"We understand these drastic measures will have unprecedented impacts on our local businesses and working families and recognize that this is one of the most challenging periods our city and nation has ever faced," Lucas said. "I know for certain that our residents will band together during this period of crisis to offer assistance and support to each other."