Students and Teachers Navigate the New District Online Learning Option
No whiteboards, no bells, no other students. Only you, your teacher, your computer and your homework. This is what life is like on this newly utilized frontier of education: online learning. In this time where many seem to have a lot of questions about the future of education, some have found a suitable answer for them–school that takes place completely online.
"Blended Learning is the new art of combining technology with traditional teaching tools that allows for teachers to be able to meet the students where they're at," district Head of Blended Learning T.J. Ulmer said. 
Some teachers feel that online learning has opened many new doors to utilize new technology on various different platforms.
"I actually feel like the things I really value about teaching in person are even more accessible to me now that I am able to exclusively reach students by, for example, Teams chat," online English teacher Peter Mishler said.
With the help of breakout rooms on Zoom, students are still able to work in groups, or by themselves and are able to ask questions as needed.
"The best teaching I think happens one-on-one with the teacher," Mishler said. "I often try to make opportunities for that to happen…My remote students are able to have more flexibility."
However, online learning does have many obstacles. Online school does not allow students to see their peers and teachers face-to-face which can become a challenge for some students.      
"Many of these students are not able to do as much socializing as they would like," Mishler said. "To be able to give them opportunities to not only socialize with each other but also to do that with students they don't normally get to talk to really helps provide a solution to the lack of social interaction right now."
Teachers are working to make their classes familiar and successful while being at home.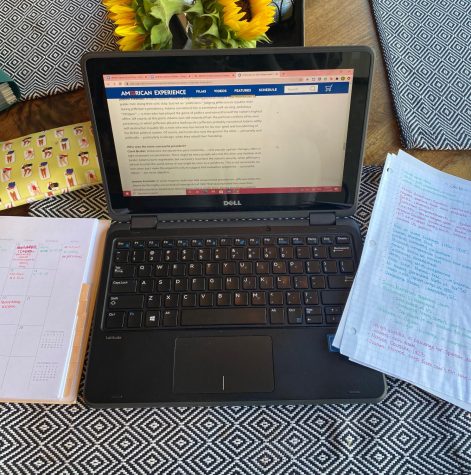 "In a lot of ways, remote learning has been really successful," Mishler said. "As a team, my students and I have made it work well."  
For those students who chose exclusively online school this semester, their teachers come from any of the five high schools in Olathe, which opens many doors for students to meet new people and learn in a totally different atmosphere.
"I am teaching students from all five high schools," Mishler said. "I find that really interesting to hear the different perspectives."     
Teachers who are teaching online have had to adapt to a new environment quickly to setting up Zoom meetings, online assignments, and online assessments.
"It is certainly a different dynamic rather than just teaching students at West," Mishler said. "To go along with that, I am coming up with ways for them to work together in ways that allow them to collaborate and interact with each other in ways that are meaningful."
Mishler has worked to create a familiar environment for his new students since learning has taken this whole new form.
"I really believe that the best learning happens when students aren't under stress," Mishler said. "Being relaxed and being creative kind of go hand-in-hand with each other."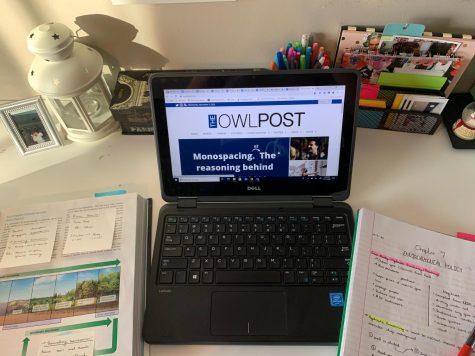 As a whole, online learning has been a learning curve. As the district continues to meet and alter the COVID plans, remote learning, for now, will continue through the duration of the semester.
"Overall, I really like the experience and I have also as a teacher, not only having to provide for my students like I normally would but also talking about providing for them aspects of their socializing," Mishler said.
The future of online school is to have it offered throughout the rest of the 2020-21 school year. Schools are hopeful that they will be better prepared if cases ramp up, as the CDC has predicted, and an influx of students are to join remote learning. 
"We're embracing new techniques and new tools, and when life gets back to normal they'll have gained this knowledge on the way that will help us improve the profession and tailor learning experiences more specifically to their individual needs," Ulmer said.