Students and Staff Change Lives Through 'Give a Hoot'
Olathe West's award-winning Give a Hoot project is now in its fourth year of operation. To some, this annual community service project is just that: a service-learning lesson that is only relevant one month each year. But to those like social studies teacher and advisory coordinator Julie Fishburn, Give a Hoot can be a valuable way for students to give back each holiday season. 
As an advisory coordinator at her previous school, Fishburn was no stranger to school-wide community service projects. So when she and the rest of the faculty were first meeting in 2017, before West opened, Fishburn knew that she wanted to incorporate some sort of service-learning project into the advisory program. Mrs. Fishburn; as well as Alicia Jackson, a former counselor at OW; and Pat Butler, Assistant Principal; began to discuss pieces and components that they wanted to see, and it was decided that the project would be called Give a Hoot. 
"Before we opened in 2017, part of my job in teaching here was to be the advisory coordinator," Julie Fishburn said. "So as we were talking, we were kicking around some sort of schoolwide community service project. But, Give a Hoot has kind of surpassed everything that I ever really started out thinking it would be."
Fishburn was also surprised by how enthusiastic the students seemed to be about participating in Give a Hoot. Instead of doing the bare minimum, students really gave it their all to make sure the projects were special for everyone. One group of advisors, led by Coach Tyler Rodden and Coach Kelsey Carbajo, created a different kind of project. 
"You can do lots of things that don't cost any money at all, and that was really how we started out," Fishburn said. "By last year, it was apparent that our kids had really big dreams and ambitions in helping other people, and some of that required some funds. So, Coach Carbajo and Rodden's advisory teamed up as a group and created a prize patrol."
The advisories reached out to different organizations around Kansas City to pitch their idea and collect donations. The Honda of Olathe ended up giving a pretty large grant to the Give a Hoot project and will do so again this year.
"Part of what they did was create a Google form, and then the advisories who needed some money would apply using it," Fishburn said. "Then, their advisories would go through all the requests and award money to each advisory. That part of it was above and beyond what I ever envisioned and is still going this year, and it looks like something that'll be a part of our program indefinitely."
"It's very student-run and student-driven," Fishburn said. "We as teachers kind of help guide in everything we do, but especially in Give a Hoot. We just let the students go crazy with it, it really is their ideas."
Because the students at West are the ones who come up with the ideas for each Give a Hoot project, many advisories have gotten pretty creative. Andy Weber's advisory, for example, came together to brighten the days of younger students.
"We went over last week to Prairie Center Elementary," Weber said. "We did a bunch of sidewalk chalk, positive messages, and then sidewalk games like floor is lava and hopscotch kind of stuff. The students have to come up with the ideas and figure out where they recognize a need and how they want to contribute to that. It's cool to see that process." 
Weber's Prairie Center project is just one of many ways students are making a difference in their community. Other advisory groups did things like writing notes of appreciation to different faculty members, or playing basketball with Oregon Trail students. However, Fishburn recalls one project that had a special meaning to the staff of Olathe West.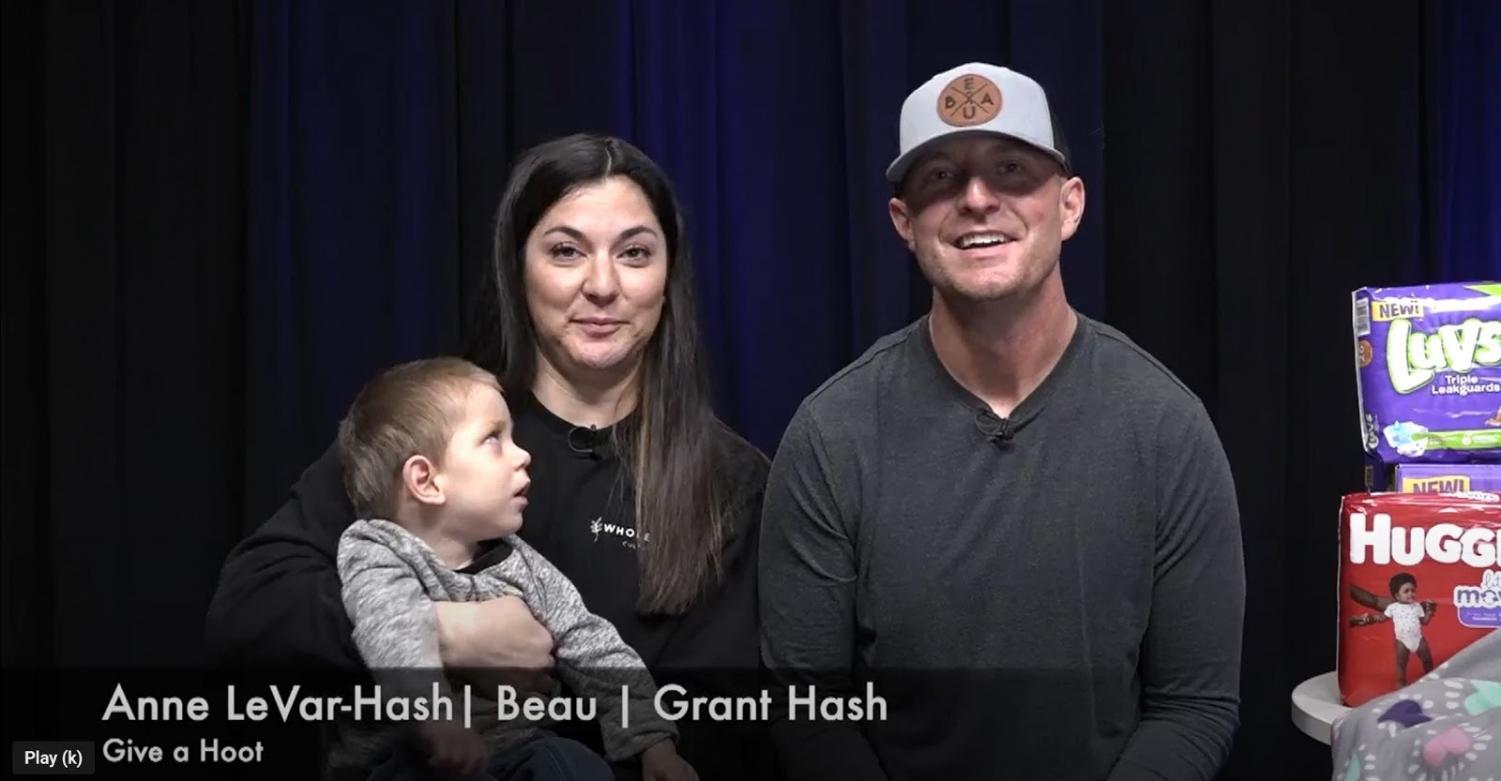 "We took on the Bow Project," Fishburn said. "One of our coaches here has a son with a genetic abnormality that causes multiple severe issues with walking and feeding and talking and all kinds of stuff. So, my advisory adopted [him], his name happened to be Beau also."
Fishburn's advisory made fleece ponchos for students in wheelchairs to wear when going in or out of their school in the case of bad weather. They also donated QuikTrip gift cards to many families to cover the cost of gas for traveling to many doctor appointments each week. 
Many student's favorite part of Give a Hoot is the culminating assembly at the end of each year. Students and staff as well as some special guests all gather to celebrate what the students of West have done for their community. 

"We made it kind of a big deal," Fishburn said. "We involved a lot of different groups at school like choir, orchestra, the band, the cheerleading squad, drill team and so forth and made it a formal assembly. Since then, we've added different pieces and elements to that each year. We had a few groups go out to Prairie Center Elementary School 1st and 2nd graders and read to the students there. We invited those classes to Olathe West for our assembly that day… So it was a lot more interactive last year, and it included the community as well." 
The Give a Hoot program has become so well-known that Olathe West has actually been awarded for it.
 "The Kansas State Department of Education and Smoky Hill Education awards something called the Enhanced Spotlight Recognition, and we have won and been recognized for it the last two years," Fishburn said. 
At the end of each school year, staff survey the students about the advisory program. The majority of students say that their favorite part of advisory is the Give a Hoot projects each year. What started as a simple community service project has grown into something that impacts the entire community. 
"Part of Give a Hoot is we like students to know that we do these awesome things, but not just in the month of November," Fishburn said. "We can do these from November to November, all year long."