Pre-Swearing In Presentations
January 20, 2021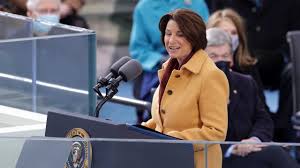 The welcome remarks were given by Senator Amy Klobuchar. Her speech, as well as many speeches given that morning, was characterized by a call for togetherness. 
"This is the day when our democracy picks itself up," Klobuchar said. 
She was followed by Missouri Senator Roy Blunt, who thanked the Capitol security of the day before giving a speech himself on the importance of an inauguration ceremony.
"Americans have celebrated this moment during war, during depression, and now during pandemic," Blunt said. "This is not a moment of division, it is a moment of unification."
Next came Reverend Leo Jeremiah O'Donovan, delivering an invocation. The Presentation of National Colors was next, in where federal and state flags were carried across the stage and placed on the Capitol veranda for the rest of the inauguration. Lady Gaga sang the National Anthem to the nation, and Andrea Hall recited the Pledge of Allegiance verbally and in ASL. This was the last step before the official swearing in ceremony.