Swearing In
January 20, 2021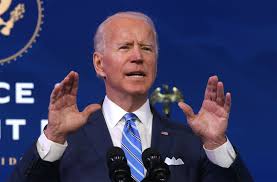 Kamala Harris was sworn in first, making her the official Vice President of the United States, as well as the first woman and person of color elected as vice president.
Between this inauguration and the next, Jennifer Lopez sang, "This Land is Your Land." Slipping in part of the Pledge of Allegiance during this song, she said, in Spanish, "One nation under God, indivisible, with liberty and justice for all."
At 10:50 a.m. CST, Joe Biden was sworn in as President of the United States. 
Biden gave an address afterwards, which was very hope-oriented. Little policy was discussed throughout the speech. 
He gave more credence to bringing America together, saying that without unity we have, "no nation, only a state of chaos."
He, and many politicians attending, were very aware of the recent Capitol riots.
He called the storming of the Senate an "attack on democracy and truth."
Biden also promised to be a people's president.
"Politics doesn't have to be a raging fire, destroying everything in its path," Biden said. "I will be a president for all Americans; I will fight as hard for those who did not support me as for those who did."