Girls Wrestling Dominates At State Tournament
On Feb. 25, the girls wrestling team drove to Wichita to compete in the state championship, where they won multiple state titles.
Sophomore Laney Finazzo, in the 155 pound weight class, and senior Elle Fishburn in the 132 pound weight class, both placed fourth in their weight classes respectively, while sophomore Mikayla Rivera was crowned the 235 pound, 6A, girls wrestling state champion.
"I was a little nervous but I was ready for the challenge," Finazzo said about preparing for the State tournament. "The practices were a lot more conditioning, so we were wearing ourselves out more."
Finazzo wrestled for the first time at a state tournament and credits her experiences with volleyball as helping prepare her for high-level competition, without being overwhelmed by the nerves.
"I thought I did well," Finazzo said. "This was my first time at state and I placed fourth, so hopefully next year I'll make it higher than that."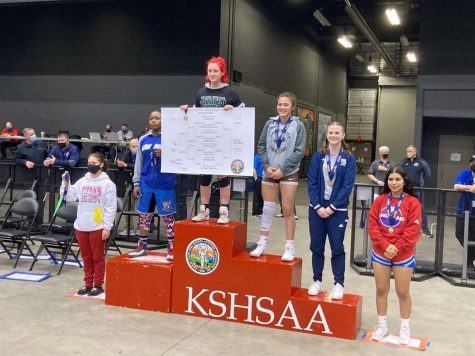 Fishburn also wrestled for the first time at a state tournament after only having wrestled for the past two years since the girl's wrestling program started. 
"I knew there was going to be a lot of good competition and a lot of good wrestlers there, so I was really nervous," Fishburn said. "I didn't think I could do it. I was going against the number three girl, so I didn't think I would be able to win that match." 
Tradition is something that the wrestling program has instilled in their practices and meets and had Fishburn excited to compete at the state tournament for her chance to take part in the tradition reserved for state placers.
"I only needed to win one match," Fishburn said, "before I could place and I could put my hand on the wrestling wall."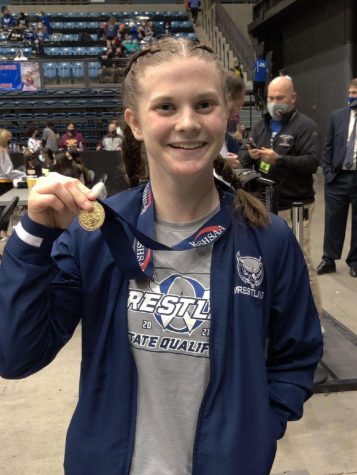 The tradition of being able to place your hand on the wall of the wrestling room started when Rivera placed second at the state tournament the previous year. Rivera's hand was dipped in paint and slapped onto the wall next to her second-place plaque.
"It was a little nerve-racking," Rivera said about returning to the state tournament. "But it feels good because you can redeem yourself from the mistakes you did last year and hopefully try to get better."
In her last match at the state tournament, Rivera was down by four in the second period when she reversed her opponent and pinned her, with only one second remaining. At that moment, Rivera became the first-ever state champion for West's wrestling program.
"I was very satisfied with what I've accomplished so far," Rivera said.
Finazzo and Rivera will continue wrestling at West while Fishburn will continue her wrestling career at William Jewell College next year.