Cross Country: Back and Better Than Ever
During the 2020 fall season, the girl's cross country team won the State Competition despite the setback of COVID. For the 2021 season, the team is looking to accomplish even more than last year. The team has been working hard all summer long, doing everything from long runs to team bonding. 
"We met in the summer, every single day, Monday through Saturday," head coach Kelsey Carbajo said. "There was almost 100% attendance every single practice. So that's huge, just being together and practicing together, doing tough things together." 
While the girls won State last year, the team is hoping to win two state titles this year, both boys and girls. 
"For the boys, the goal is to be the first team to make it to State," Carbajo said. "We definitely have the talent in the boys to do it." 
The boys have made progress since 2020 by setting goals and training hard. 
"There is a huge difference from our boys' side from last year to this year," Carbajo said. "They started talking about running, talking about their goals and they're going to make huge gains because of that. "
Senior Ella Sharpe has discovered the key to success has been taking off days. 
"I think one thing we focus on is taking our easy days easy and then our hard days hard," Sharpe said. "And that's important because if we did insane training every day, that would lead to injury and we would not be successful."
The team's success can be owed to their family mentality and core values.
"We are more motivated to push each other and just have fun with it," Sharpe said. "And if we do that, we know that leads us to success." 
Coach Carbajo pushes this value by planning team bonding events outside of practice. Such as goal-setting sessions or Olympic watch parties.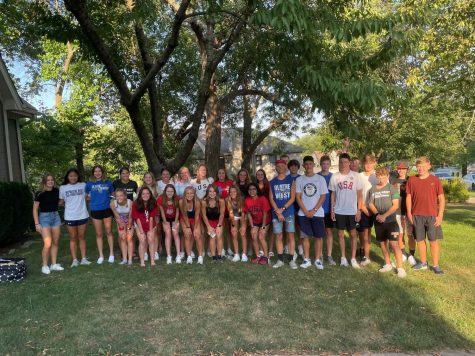 "Being with people who have the same mindset as you, the same goals, takes you to the next level, in every aspect of your life," Carbajo said. "We do things together and hang out together to make each other better."
The cross country team kicks off their season Saturday, Aug. 28 with a community get-together. The event will feature a time trial for the team and a 1-mile fun run, followed by breakfast. Visit @owlxc on Twitter for more details.