More Recognition for Olathe West's Golf Team
Olathe West is known for its many popular sports teams such as basketball, soccer, and most importantly football. But West also has several sports that don't always attract the most attention or biggest student sections, like golf. 
"I think a lot of people don't know we have a golf team, especially girls golf, it's kinda one of the things people don't know about," junior golf Liz Lyons said. "But we all do a good job of talking about it and I definitely think in the past couple of years more people know about it." 
High school golf is a less-known sport in school. A lot of people don't know West has a golf team, despite the attention players try bringing to the school.
"It's not like a highly talked about sport, and a lot of people don't try out for golf." Senior Lauren Richey said. "I knew it wasn't like a super popular one, and you don't have a crowd, but I do it for myself and obviously it's a self-independent game, which I like about it. It's all completely worth it, not everyone can say they played golf. It's just a really cool thing to be able to say." 
The golf teams are both made up of 14 players. Girls Varsity and Girls Junior Varsity play in the fall. 
"It's a really good sport to build friendships and bonds with, and it's also something that is a lifelong sport that you can play for the rest of your life," senior Lauren Richey said.
Currently, the girls junior varsity team began their season in August. In their most recent match on Sept. 7, they finished in second place in the Olathe Cup at Sycamore Ridge Golf Course.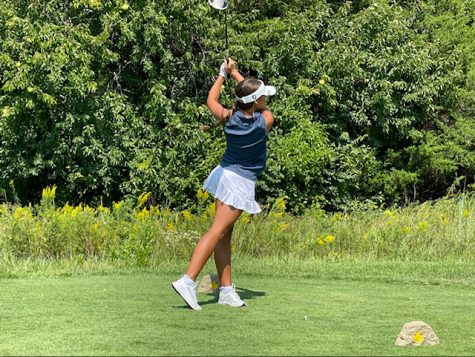 They played against four other teams, Olathe Northwest, Olathe East, Olathe South and Olathe North. 
The varsity team has eight players, including seniors Kamryn Biel and Lauren Richey, juniors Alayna Crosby, Liz Lyons and Corrine Zieg, sophomore Lauren Luecke and freshman Siena Bui and Ella Resch. 
The girls also recently played in the Olathe Cup, playing against Olathe Northwest, Olathe South, Olathe East and Olathe North. 
" I mean, I enjoy it so it doesn't really matter what they think. I don't really need recognition from other people." Freshman Siena Bui said. "You might be really good, or really bad, it doesn't really matter. Just like jump into it! You got it!"
The JV team consists of six players, including junior Hadley Johnson, sophomore Kate Self and freshman Maddie Guenthner, Maddie Wegmann, Kyleigh Wilson and Makenna Wiltse. In their most recent match, they placed first against five other schools in the tournament at Heritage Park Golf Course.