Olathe West XC Wins State Two Years Running
The girls cross country team won the 6A championship at the state competition on Saturday, Oct. 30 in Augusta, KS. The team won state last year as well making them state champs two years in a row.
Junior cross country member Paige Baker was a part of the girls team victory and said she was very nervous leading up to the competition.
"During warm ups before the competition I was feeling really good, but on the drive from the hotel to the course I started freaking out," Baker said. "The anxiety really started to build up before we started and was the worst on the starting line, but after the gun went off it all went away."
Though she had worries before the competition, the team had a great run and were proud about their performance.
"The repeat [of winning state] was fun, and the fact that we were able to do it when our top runners aren't performing at their best is really cool," Baker said.
Though they had a great run and are happy with their season it has come with some challenges.
"We've dealt with a few injuries and illnesses, but other than that we have been pretty solid," Baker said.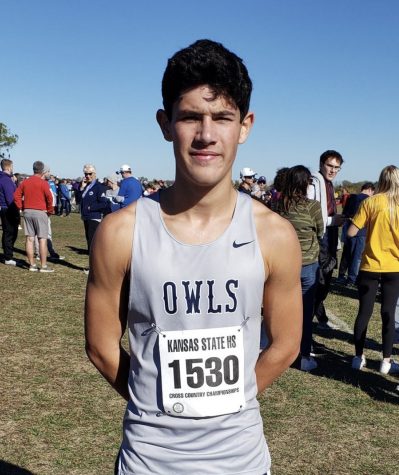 Aidan Reyna has run cross country since sixth grade. He was the only boy who was represented at state and won eighth overall.
"I think my biggest motivation is my team, my coaches, and my parents," Reyna said. "They give me so much support and make me want to do well. I want to show them that all the support they give me pays off."
Coach Carbajo has been with the team throughout their ups and downs and she was very excited and reflected on the team's feelings after winning state.
"I think the emotions were all very happy, but it was also a relief too because we put a lot of pressure on ourselves to accomplish this goal," Carbajo said. "We always say pressure is a privilege, but I think winning the way we did, by 16 points, was something that I know they're very excited about and very proud of because they have been working towards this goal since we started setting goals this summer."