Mason Coates Finds Family Through Football
Switching from middle school to high school is a big step, especially when attending a high school that is with all new people. However, freshman Mason Coates, who attended Chisholm Trail Middle School, didn't have a problem with transferring thanks to the friends he has made from football and by getting involved at West.
 "I really wasn't close with anybody since I transferred over here from Chisholm Trail," Coates said. "It's kinda cool to see all the guys since I didn't know anybody in my classes and just football in general and you make a lot of friends." 
Coates has been playing football since kindergarten and tackle football since fifth grade. He is now number 77. He plays center and nose guard.
Olathe West football has impacted Coates' life in ways you wouldn't expect. 
"It's just so unique," Coates said. "The coaches are just so much different and the school is just so much cooler and all the facilities and fields and just the environment is totally different than some of the other schools."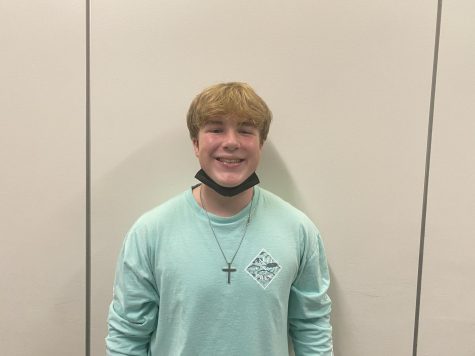 Coates gives a little more insight on the team's progress. 
 "We were off to a little bit of a rough start," Coates said. "We did win our first game, but we lost our second one and we kinda got it together and we've been doing a little bit better."  
This Thursday they play their last game to finish off the season against Olathe East. Coates set some goals for himself this football season. 
"My goals were to just give it my all and give it 100% and no matter what happens keep trying whether I start or not," Coates said. "I have reached those goals, been through some rough spots but I've just given it my 100%."
A new school is hard enough, but a new football team is just what Coates needed. 
"I was a little nervous at first because I am ditching basically all the kids I've grown up playing the sport with but as the seasons came on I feel a lot better and I'd rather be here than anywhere else," Coates said.
Olathe West Freshman football ended the season with a loss to Olathe East 40-6, ending with a 4-5 record.