Olathe West Wrestling Finishes Season with Successful Run at State Competition
Olathe West had 11 athletes, both boys and girls, that qualified for the 2022 state competition. The team finished off the season with an individual state championship from female wrestler Makayla Rivera. In the previous season, Rivera had also been named the state champion, now giving her two state titles as a junior. 
"It makes me feel really good that my hard work has paid off," Rivera said.
Girls wrestling only got its start two years ago, but the program has grown with the help of Coach Lucas Vincent, who has recruited girls over the years he believes could be successful at the sport. Rivera has been in the program since the beginning and has seen a large uptick of girls who have learned and become successful at wrestling. 
"[The program] has grown a lot," Rivera said. "We've gone from freshman year having about 14 girls, to this year having about 30 girls. A lot of this is because of Vincent." 
Boys wrestler Cooper Novacek describes how it felt for him to attend the state competition for the first time compared to other tournaments. 
"It's a packed stadium," Novacek said. "All of the 5A schools are there, all the 6A schools are there. It's really big. And weigh-ins are intense because you're next to all your weight classes instead of weighing in with your team."
Whether it's wearing the same socks over and over again, or tapping your toes before a free throw, many athletes have superstitions before matches. Rivera however, says to be successful she avoids superstitions and keeps it straightforward.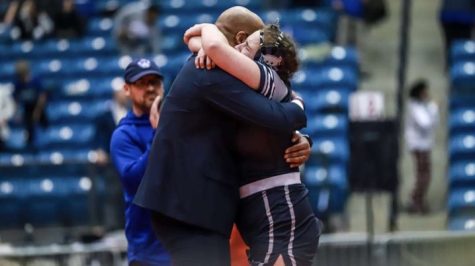 "I'll warm up before, but I'm not really a person that has to do the same thing over and over," Rivera said. "I like to get a light jog in and I'll have one of my partners come and we'll just do a little live session."
Novacek. on the other hand, believes superstitions are the key to success. 
"I wear the same warm-up shirt for every tournament," Novacek said. "I also had a shoulder brace this year. It's going to be kind of gross, but I didn't wash it once the entire season." 
While the boys did not bring home a state title, Novacek said he still feels pride in his performance and that he is proud of what his team has accomplished this season. 
"We have some really good wrestlers who have grown a lot," Novacek said. "We'd be against ranked teams this year with kids who were ranked [in State] and we would end up beating them."