Yearbook Students Travel to Los Angeles for National Conference
Olathe West Yearbook headed to Los Angeles April 6-9 to learn more about journalism through sessions and show off what they know in competitions. The trip included seven yearbook students and lasted four days.
The conference started Thursday, the team got to attend sessions to learn more techniques they can apply to their book.
"I learned so many new things, stuff I never even knew about yearbook, and I got so many new ideas that we can apply to next year's book," junior Kira Stambaugh said.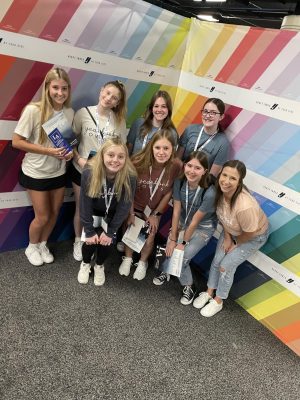 After their sessions, the team got to compete in competitions to show off their journalism knowledge.
Four Olathe West Students were recognized for their excellence in journalism. Audrey Snider won a ranking of Excellent for her work in yearbook copy/captions about student life, Kira Stambaugh and Shaylee Jacobs-Wilson both received Honorable Mentions in Graphic design: Advertising and Sports Writing, and junior Alexis Purdy earned the highest rating, Superior, for yearbook copy/captions about clubs.
"I came out of the competition pretty confident with my work but to be honest, I did not have high expectations because I knew I was in a national competition with some very talented kids," Purdy said. "I actually found out my results on the plane and it was super surprising and fulfilling. I'm proud of the writing I did and the trip was something I will never forget."
When the team was not competing or in-session they spent their time traveling around Los Angeles, going to shops, and trying different restaurants. Junior Andie Rau loved the experience and said her favorite part of the trip was going to the Griffith Observatory.
"On Friday, after sessions and critiques, we went to the Griffith Observatory to watch the sunset," Rau said. "We had the absolute best view of the city. After that, we got dinner and walked to ice cream. It was honestly just the best night full of so many beautiful sights."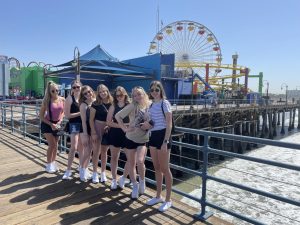 The team left Los Angeles reminiscing on their trip and feeling inspired to start their work for next year's book. Adviser Julia Walker learned a lot from the trip and is energized for the upcoming year.
"Coming off the pandemic years, it really re-energized me and reminded me of all the fun things we can do in class to bond, build leaders, and be productive while having fun," Walker said.