Olathe West Class of 2022 Graduates
On Friday evening, the class of 2022 took to the CBAC football field to receive their diplomas and graduate.
Prior to graduation, students received their cap and gown in the cafeteria, walking the halls in them on Thursday morning. 
The graduation ceremony was held at CBAC at 7:00, the stands filled with supporting friends and family watching the graduates. 
Teachers attending wore their own robes, consistent with their major. Some teachers announced names.
Teachers entered the field first, walking in their robes to the front of the field. Graduates walked into the field from the back of the stadium when the ceremony began. 
Public safety held the flags up during the ceremony as they do at certain events.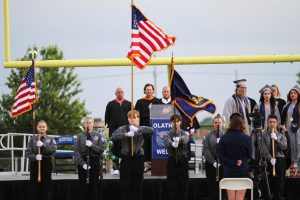 On the big screen at CBAC, the time clock at the top read 20:22, a symbol for the graduates.
After shaking hands with the members on stage, students made their way back to the chairs set on the field, stopping for the photographer in front of the cardboard cutout of the Olathe West symbol.
As the ceremony concluded, the graduates threw their caps up in celebration after moving their tassel from right to left. 
The ceremony concluded at 9:00, and the field was then rushed with friends and family going to find their graduate, take photos and celebrate.