Triple Threat: Girls Cross Country Wins Third State Championship
On Oct. 29, the girls Cross Country team made history yet again. Competing at Rim Rock Farm, they placed first and gained their third consecutive State title.
The team had been dominating many of their meets throughout the season, continuing their reputation from previous years. The team has held multiple first place finishes, as well as an undefeated season last year. 
The State championship represents one of the last cross country races of the seniors' high school careers. A final win serves as a great reward for the efforts put in by the runners throughout the years.
"It's crazy, and does not happen to many teams, so that it happened to me and happened to us is really an honor and really something special," senior Charis Robinson said.
Robinson has been involved in every State run since she was a freshman, including their runner-up placement in 2019. Her fellow teammate and senior Paige Baker has also attended every State meet throughout the years.
"It's really cool because obviously it's not something a lot of teams get to do or can do and just being there with my teammates every single year doing it over and over again is really fun," Baker stated.
Despite the conception of cross country as a more individualistic sport, such competition and consistency would not have been possible without the teamwork and grit shown by the athletes every year.
"It's very team based, you constantly push yourself which pushes everyone else and you work to keep up with faster girls and get the slower girls to keep up with you," Baker said. "We all just grow as a team."
The high amounts of team bonding and training has strengthened the team to a near unstoppable force. Whether competing in a race or training together, the camaraderie of the girls cross country team is an important aspect.
"We're always with each other throughout the day," said senior Aubree Blackman. "We just have a really good team bond."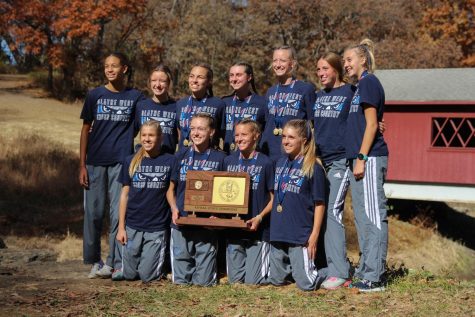 The success of the team has been led by their head coach, Kelsey Carbajo. In her career teaching cross country, she witnessed the extreme growth of her team, especially the senior class. In their freshman year at Sunflower League, they did not know how cross country scoring worked.
"We sat them down, talked about how to score, and now they definitely know how to score," Carbajo said. "They know to score very low because they all run together in the front."
While plenty of seniors may be leaving, the team is filled with talent across the classes. The girls cross country team has a bright future ahead of them, as this win only motivates everyone to continue hard next year. Each year is an opportunity to represent what they're made of.
"Winning State, those are the records that we hold in Kansas and in the region, and that is crazy to our team and to our school," Robinson said.