Boys Swim and Dive is Ready to Take on Their Season
Winter sports are starting up, and boys JV/Varsity swim and dive is starting their season. The team is led by head coach Courtney Frets, assistant swim coach Kayla Ayer, and dive coach Paige Parker. The team consists of 29 students for the 2022-2023 season. 
The swim and dive team had their first meet on Nov. 29 against St. James Academy at Mission Trail Middle School, scoring 12 first-place finishes, all three relays and nine individual scores, winning the meet with many personal records. 
Junior Micah Boswell, who got a PR on the 200 free relay with a time of 27.15, helped bring the team to success at the meet.
"We beat St. James overall and we had four divers all from [Olathe] West," Boswell said. "I PR'd in swim."
The team as a whole, met many of their goals from individual events. Some even got consideration to compete in state.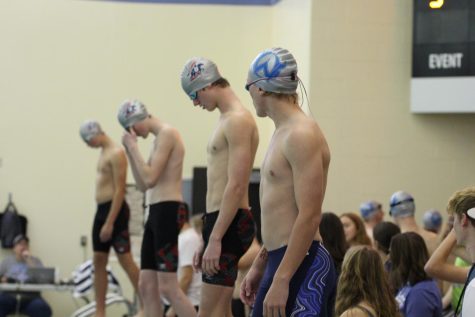 "I qualified for another event and got consideration for state and a bunch of other people considered in all their events, so it was a pretty good one," senior Noah Damewood said.
Swim and dive meets are typically around a couple hours. The time before a meet begins is a crucial time for the team to get prepared to compete.
"Before the meet starts we will have a quick team warm up and talk," Damewood said.
As the meet continues, the swimmers and divers will be competing in various events. These events are where swim and dive can show off their skills and win. Dropping times and accumulating the most points is how a swimmer or diver wins. 
"Everyone can swim up to four events every meet, typically varsity guys will swim two individual events and two relays per meet," Damewood said.
The swim and dive team doesn't just put in hard work at meets, but behind the scenes at practice as well. Swim and dive is a sport that takes strength, determination, and technique.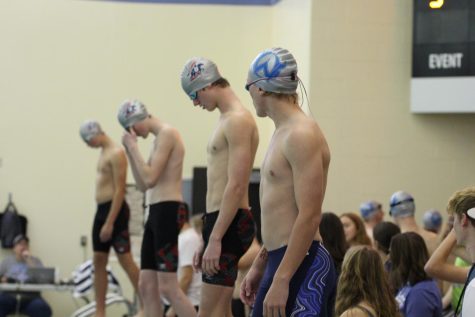 "Practice will typically be somewhere around 5000 yards," Damewood said. "We will start with a 15000 yard warmup and then move into individual work, like flip turns and designated strokes."
Practice and preparation for swim and dive is important. This sport takes repetition and time, running things over and over again to get it down, constantly striving to reach a goal. Boys swim and dive practices throughout the week and into the weekend.
"Practice goes from 3:30-6  p.m. every weekday and 8:30-11 a.m. every Saturday morning," Damewood said.