NHS Holds Yearly Induction of New Students
On Nov. 30, the National Honors Society held their annual induction ceremony for new members. The students who joined pledged to honor their service to both academics and their community.
NHS works to both honor students for these academic accomplishments along with encouraging them to volunteer and help for community events and fundraising. In order to join, students had to apply with at least a 3.75 GPA and 20 hours of community service. 
"It's a super good group of kids," event organizer and NHS advisor Phillis Clark said. "They are super involved in everything." 
During the ceremony, which took place in the auditorium, students were called up to the stage one after another. They would then sign their name on the official membership book, archiving their commitment to the society. 
"The book has a record of every NHS student at Olathe West for all of the years we have been open so far," fellow NHS advisor Jordan Boyd said. "That is our official record for who gets into the NHS."
The students then light their candle from the center candle of five on the stand before receiving their certificate from Megan Black. The four candles symbolize the four pillars of the society: Scholarship, Service, Leadership and Character. 
"I think the candle was to symbolize that you're taking those characteristics and upholding them yourself," junior and NHS member Ellie Moore said.
Since the National Honor Society started with the schools opening, it has been growing every year. Membership and commitment with students has become larger as the years have gone by. 
"We inducted 129 members," Clark said. "Our very first year we inducted 17."
The National Honors Society also organizes events throughout the school year for their members to volunteer for. They have set up events like Trunk-or-Treat for Halloween along with a donut fundraiser to raise money for Down Syndrome and a lemonade and cookies fundraiser for Alex's Lemonade Stand, a charity for childhood cancer. 
"Alex's Lemonade Stand is a huge thing," Clark said. "Last year we made $300 or $400 for them."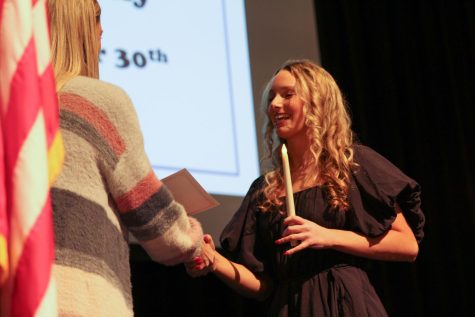 The students have made an impact on these events by volunteering throughout the year. Each contribution can help students connect to others around them. 
"This past October I volunteered at the Halloween Trunk-or-Treat because that was really fun and I got to interact with people throughout the community that came," senior NHS member Alayna Crosby said. 
The National Honors Society really seeks out students with a commitment to volunteering. Such involvement can elevate a student in their character and their commitment to helping others.
"I think it's really good to kind of get out of your comfort zone, meet new people, make new friendships," Crosby said. "Definitely get out in the community more with helping other organizations by volunteering for them."