Girls Varsity Soccer Season Starts 
Girls' varsity soccer started their season strong in March, having not been scored on all season. 
One of the players, senior Lily Hendrickson, has been playing soccer since she was 4 years old and committed to play at Kansas State University in eighth grade. 
"It's been going really well," Hendrickson said. "We haven't lost, and we haven't been scored on yet either."
On April 18, the team beat Lawrence Free State 8-0, with Hendrickson scoring two goals in the first half.
"It was great," Hendrickson said. "It was good morale for the team, we just needed to get in the game and get as many goals and practice on things we needed to work on."
During halftime, the team was up 2-0, and received a pep talk from their coaches on the sidelines, encouraging them to score more goals and improve on things from previous games.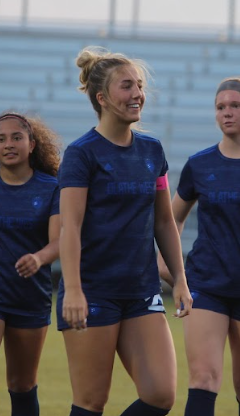 "Our Mill Valley game had a really bad first half," Hendrickson said. "But we held up our own very good, which usually against Mill Valley we don't. It was nice to come out with not an 'L.'"
The team is also tight-knit this year, and plays well together according to Hendrickson. 
"I love hanging out with all those girls, and just getting to have fun with them," Hendrickson said.
The team is set to play next on the April 27 against Olathe North at CBAC.