APUSH Students Advance to Nationals for Their History Projects
Each year, students in advanced placement U.S. History, also known as APUSH, work on projects for an event called National History Day. These projects can be exhibits, documentaries, creating a website, or even performing something in a theatrical group. 
This year, juniors Natalie Meier and Lexi Heideman placed first in state competition and are gearing up for nationals in Washington D.C. The competition is optional, and starts at the district level. 
"Competition has been fun," Meier said. "Lexi and I weren't able to go to the first district competition unfortunately, but we went to the state competition in Topeka and it was really fun. We had our interview and I think it went really well."
The way the competition is based is having two parts to it. Part one is having the project itself displayed with other projects for peers and judges to see. Part two is being interviewed about your project and being asked questions about the construction itself. 
The two national finalists completed their project as an exhibit about the empowerment of women wearing pants. 
"I really liked constructing the final board and putting all the pieces together because it was a lot of fun and it was really cool to see our final version come together and then be able to be really proud of it," Meier said. 
Having a larger project like this requires writing a process paper about the steps the group took along the way to get the end result. This paper requires many different sources, both primary and secondary, making contestants do a deep dive into their topics.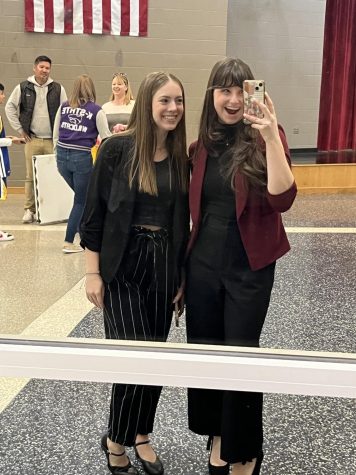 "I would research more different topics all over the place instead of one main thing because there's some more information about it that I would like to include but we don't have the space," Meier said. 
Even though projects like these take a lot of time to complete, students have the chance to learn more about their chosen topic and get a sense of why projects like these are important. 
"NHD projects are incredibly important to give students an opportunity to take ownership of their history as well as expand their knowledge of historical subjects or events that interest them that may not get taught in-depth or at all in their history classes," Heideman said. 
For the last few years, nationals have been held online having this year being the start up again of being in person out in D.C. Due to this, more competition entered which made qualifying even harder. This project will return again next year for juniors who will take on a new theme.