Olathe West Celebrates Seniors at Senior Awards
The senior awards ceremony was held at 7 p.m. in the auditorium May 1. Differing from the standard awards ceremony for other grade levels, the senior awards began with scholarship presentations to students.
The members and founders of each scholarship foundation presented the awards to the student who is receiving them, giving a brief description of the scholarship foundation as the students walked across the stage.
Students received scholarships for specific areas, such as nursing, education or even things like sports or debate. Some scholarships were also in memory of loved ones in the area, like the scholarship presented to senior Cooper Novacek in memory of Dr. John Ernst.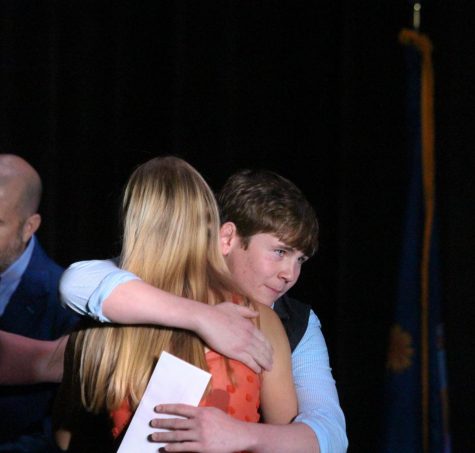 Principal Jay Novacek began the scholarship portion by saying that the students in the graduating class brought in over $12 million in scholarship money, the highest record the school had ever seen.
Senior Audrey Snider won four scholarships, and was up on the stage to receive seven awards.
"I got the RR Osborne scholarship," Snider said. "Which was through the Olathe Public Schools Foundation. It was a $5,000 one."
Snider also won an award in which her name was placed on a plaque for the board of education.
After the scholarships were awarded, teachers representing each subject category replaced the scholarship members and presented the standard awards students get for different subjects, like science, history and math.
"I felt tired, accomplished, it made me also think about senior year and how this was the last time we were going to do this," Snider said. 
Awards were also presented for community service, GPA and 21st Century Program excellence. 
As each student walked across the stage, they received a certificate and a handshake with Principal Novacek. 
When the ceremony concluded, students and parents met outside the auditorium for photos with their awards in front of the Olathe West signs and backdrops.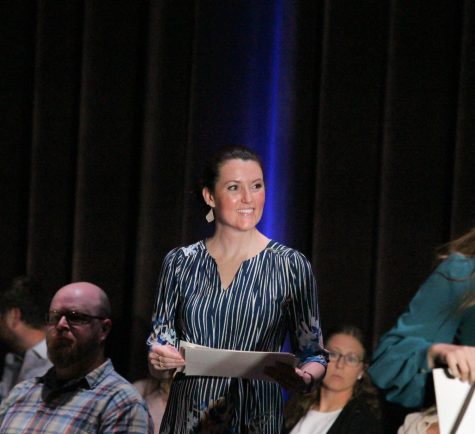 Olathe West held the annual spring awards at the end of April for the other grades, hosting award ceremonies in the gym for each grade level. Freshmen were first on the evening of the 24th, then sophomores on the 25th and juniors on the 26th.