Olathe West Students Take AP Exams
Starting on May 1, Olathe School District students in AP classes began their exams in an attempt to gain college credit. In advanced classes, almost the entire year is focused on getting you ready for not only college but also the exams in order to get credit.
During the final month or so leading up to the exam, students heavily crack down on everyday practices and studying, whether in class or not, to get used to the type of questions that are asked, as well as the time crunch. 
"For AP Lang, we wrote timed essays and did multiple choice questions," junior Megan Ullrich said. "For AP physics we worked in class and Keiter suggested tons of materials that we could use to study. Both build ups were grueling because that's all we did in class. We never got a break."
AP classes are meant to be similar to college-level courses; rigorous assignments and large resource packets tend to help students out when it comes time to put forth the knowledge they've gained through the course. 
"Taking the exams seems a lot harder than it is," Ullrich said. "A lot of people will tell you they're awful or they're not worth it, but the worst part about the exams is studying and actually sitting for however many hours the exam is."
Even though a lot of stress goes into the preparation and taking of these tests, sometimes the hard work pays off, even if you don't get the score you wanted.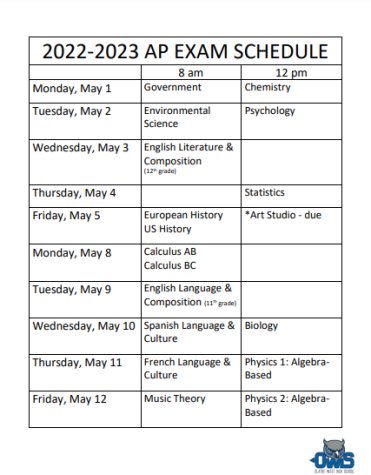 "I think it's good to know what kind of environment exams will [have] for college and beyond," Ullrich said. "The exams also teach you to develop study habits. Plus, you can get swanky college credit." 
Testing concluded on May 12, ending a demanding time for students, and officially beginning the final stretch until the end of the year.