Track and Field Sets New School Records Throughout the Season
Throughout the season, track and field has seen 15 school records broken. Top performances have been set across meets even before the final season championship at state.
One of those meets was the Shawnee Mission North Relays, which included new records like the girls 4x800m relay. The time broken wasn't just the school record but their previous state record. The team, which included senior Charis Robinson, senior Paige Baker, junior Kate Miller and junior Bree Newport ran a 9:03.42 to break last year's record by 14 seconds and win the event.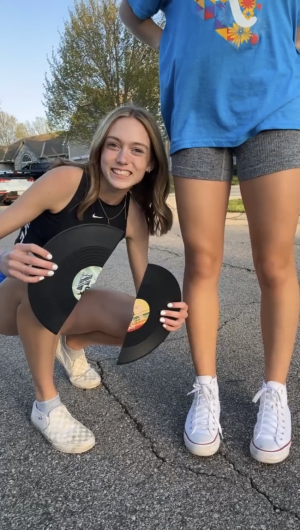 "It was a crazy fast time, much faster than last year," Robinson said. "When I got the baton I could kind of see the clock on the board and I was like 'Oh shoot! I only have to run two laps to get this record and know that I can go faster.'"
Robinson also set another record in the girls 800m, winning the event with her teammates Newport and Miller behind her to take first, second and third respectively. 
"I broke the Shawnee Mission North Relays open relay record," Robinson said. "I ran a 2:12– it was like a ten year old record."
The boys distance also saw senior Jack Miller, sophomore Gunnar Hornung, junior Logan Montgomery and junior Owen Diediker break the school 4x800m relay record at the meet with an 8:04.31 and a sixth place finish.
"We knew we were gonna break it," Logan Montgomery said. "It was just by how much."
Records weren't limited to the track either. Junior Elijah Hakim broke the school record in the high jump with a height of 6' 9'' to take second in the event.
"It was a big surprise, you know, I wasn't expecting to go 6 '9"," Hakim said. "But it was a pretty big meet and I expected to perform like I usually do. What was really helping is my coach and my teammates supporting me."
Sunflower league, hosted at ODAC, also saw the new record in the girls 1600m, the boys 400m, and the girls javelin. The stage is set for more to come with regionals today and state next week on May 26.
Gallery of recent track and field record breakers: