It's the first Friday night game of the season. The crowd has taken their place in the stands. The cheerleaders are on the sideline and the football team steps out onto the field. Everything is as expected except for one major detail: the starting quarterback is a freshman.
Due to the graduating senior football class last year, the Olathe West Varsity football team has more underclassmen than usual including Cameron Kruse, the new freshman varsity quarterback.
Kruse explains how being a varsity football quarterback as a freshman is an anomaly in high school football.
"You know, it's a pretty uncommon thing [to be a freshman quaterback] I'd like to think of it as," Kruse said. "At this point it's kind of just who I am. Football is what I do and [I am] just focused on next week."
At the start of the season, the new head coach, Jon Wiemers, was faced with the decision of who to place as the starting quarterback. The choice of picking a freshman for quarterback surprised many, but Wiemers stands by his decision.
"For a freshman in high school, not just the physical maturity but also the mental maturity, he's a little bit ahead of schedule as far as that goes," Wiemers said. "He's been around the game for a long time and has a really good understanding for being fifteen years old."
Kruse has grown up around football due to his dad being a coach for several colleges, including Florida International University, and even for the Cleveland Browns. 
"He's [Kruse's Father] been a coach at all different levels of football around high school to the NFL," Kruse said. 
With a father who coaches professional and college level football teams, Kruse was bound to have knowledge about the game.
"Being around it my whole life and growing up around it, I like to say I grew up in a locker room," Kruse said.
Due to Kruse's knowledge in the game, along with his position, he has taken on a leadership role.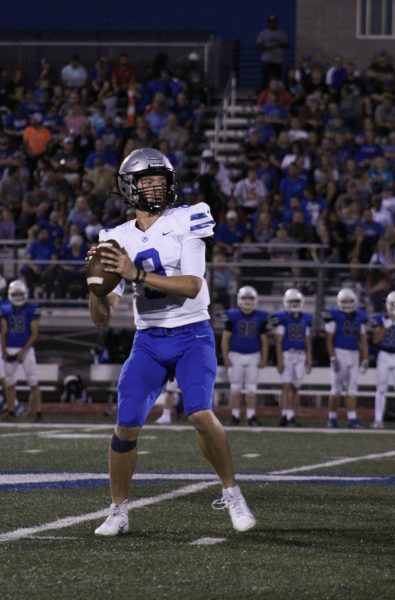 "My responsibilities are kind of [to] lead the team, take the blame for anything that goes wrong, and hopefully win some games," Kruse said.
With the team's most recent game against Gardner Edgerton on Sept. 15, the team suffered a massive loss, but Kruse seems hopeful about the new program.
"Obviously the first three were pretty tough teams, combined with us being so young as a team," Kruse said. "This program has a really good chance of winning [the] state championship in the next couple of years."
Due to the football team being so young, they have had to work through more obstacles in their program compared to a team with more experience.
"We're in a situation where it's new coach, new offense, new defense and it makes a little bit more sense in a situation like that, [to have a freshman quarterback] as opposed to a veteran team that has had somebody around that has played the same offense or played in the same defensive," Wiemers said.
The team has played three games already which have been against some of the highest ranked teams in the Sunflower League, all resulting in a loss for the Owls. Even with this rough start to the season, the team has shown their support for each other.
"We got a lot of love in the team," Kruse said. "So I think that's one thing that we got going for us that will really help us out."
Kruse, as the youngest quarterback in West history, especially feels supported by his team.
"From day one I've been really blessed," Kruse said. "They kind of took me in and put me under their wing and just accepted me as their quarterback."