15 Minutes Alone
Olivia Eisenhauer received a heart transplant in late 2018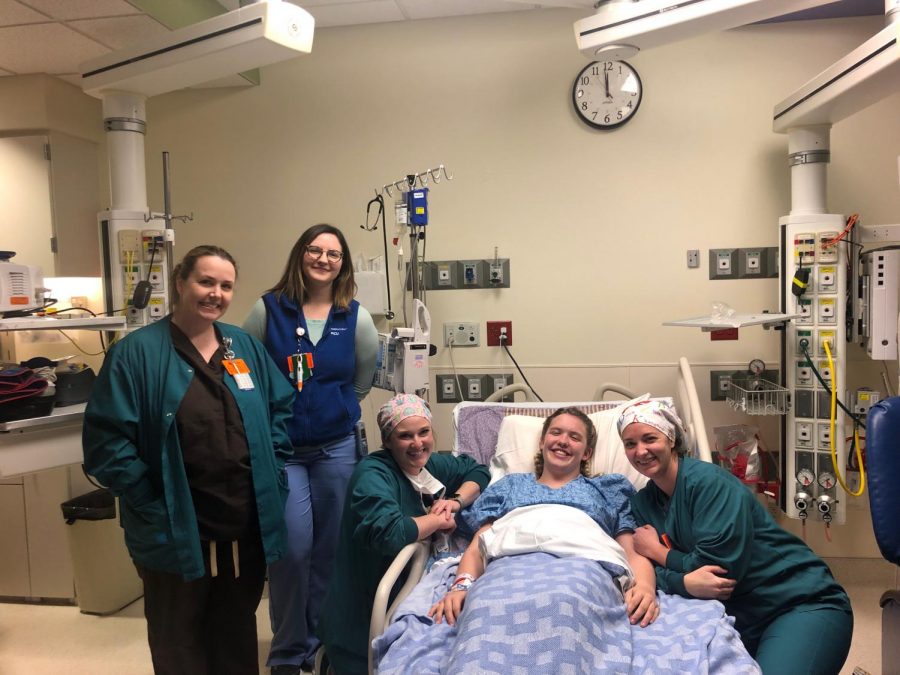 "What's happening?" she thought but could not say. "What's happening?" The breathing tube implanted in her mouth restricted her vocal chords from begging for answers. Where was she? Why did she have an I.V. pricking her arm?
From birth, junior Olivia Eisenhauer had Restrictive Cardiomyopathy. Restrictive Cardiomyopathy is when the heart struggles to relax and fill with blood. This disease is a very uncommon heart disease, only affecting around one in every 10,000 people. Unbeknownst to her, she was that one. Until her first major cardiac arrest June 22, 2015.

On that fateful day, Olivia was doing exactly what she loved; she was playing volleyball. Being 12 at the time, nobody expected what was about to happen. While walking off the court, Olivia went into sudden cardiac arrest.
"I knew I had a heart attack, but I didn't see it," Eisenhauer said. "It didn't hit me that that's a huge deal, and so i just went throughout life."
Freshman year, Olivia would be diagnosed with Restrictive Cardiomyopathy at the Mayo Clinic in Minnesota. After almost two years of Children's Mercy being unable to diagnose her, she finally found out she needed a heart transplant; she was put on the transplant list soon after she was diagnosed with restrictive cardiomyopathy. The transplant list can leave you waiting for a heart for years.
"At first it didn't hit me that someone else has to die for me to get a heart," Eisenhauer said. "You're just waiting for two years about when am I gonna get a heart and can get one any second, it teaches you that you can't control everything."
From this experience, Eisenhauer has learned a lot, not only about patience, but also about herself.
"I found my love for photography. I don't think I could do yearbook with volleyball," Eisenhauer said.
Olivia decided to join the yearbook staff her sophomore year because she was unable to play volleyball with her heart. She is now staff manager on yearbook and intends to go to college for journalism, something she never would have found otherwise.
Even with her love for journalism, her drive to play volleyball never died. She has managed the volleyball team for the past two years, giving her extra time to the team. She intends to try out for the team next year and that will be a great triumph for her to be back on the court after three years where she was unable to play competitively.
"I'm going to start volleyball lessons through a club director that used to be an Olympic coach in April, and then I hope to do more training this summer and get into really good shape this summer with weights and everything, and then try out in August. I won't play club again, but at least I can play for the school," Eisenhauer said.
Volleyball would never be a possibility without the heart transplant Olivia received in late 2018. She was in the hospital for almost three weeks, before and after her transplant.
"They had an open bed on the cardiac unit," Eisenhauer said. "It was kinda a plan if they did that I'd stay there, so I stayed there for five days."
On the fifth day of her stay, Olivia would receive the best news possible. They had finally found a heart for her, and she would receive her transplant soon.
"There was always a joke that each time the doctors would come in with something important, either my dad was gone or my mom was gone like getting food or something. They didn't really go home," Eisenhauer said. "My mom [was] driving home to shower and my dad [was] heading up, and I was there in the hospital room alone for maybe 15 minutes."
Just five minutes into this time alone, all of the nurses walked into her room. Having all the nurses in your rooms is very uncommon, and Olivia immediately knew what was happening.
"They go 'So we found a heart for you,' and I'm like 'Oh OK,' I was like oddly relaxed about it," Eisenhauer said.
Then came the time to tell the parents. Both of them were out for a few minutes, so they called to inform them of the news.
"The nurse goes, 'So we found a heart for your daughter,' and my mom goes 'OH MY GOD!' super loud and starts crying. And she's like, 'OK, OK I'm turning around. I'm turning around, I'm heading that way.' The nurse goes, 'Don't speed, we want you here safely not quickly,'" Eisenhauer said.
Olivia's mom did not even have the time to shower before her daughter would receive the transplant that would save her life.
"My room nurse walks in and goes 'So you might want to order quite a bit more food because if you think about it, you're not really going to be eating for about three days or maybe more.' And I'm like 'OK' I ordered another serving of chicken fingers, another serving of fries, two shakes, macaroni and cheese, and smiley fries," Eisenhauer said.
After Olivia finished indulging in hospital food, the nurse told her she will want to shower, because she wouldn't be able to for a while after her transplant.
"I had to shower, and that's painful when you have an I.V," Eisenhauer said. "My mom had to help me shower."
Olivia did not stay in the cardiac unit for long after her shower. Soon she was moved to the intensive care unit. The I.C.U. holds many trauma patients and patients who need very serious medical attention.
"At midnight I went into transplant," Eisenhauer said. "Then, waking up I just remember not being able to talk. This time I understood what was happening."