Theatre Prepares for First Musical of the Year, "Freaky Friday"
A disastrous wedding, a wild scavenger hunt, body swaps, and a magic hourglass; all of this and more will be featured in theatre's next musical performance, "Freaky Friday."
With a cast of over 20 students, "Freaky Friday" is moving fast in production with choreography, blocking and vocal practice to be ready for their performances Nov. 17-19.
Behind the scenes, the tech crew is also hard at work trying to bring the set to life. Junior Leo Steger is contributing to the play as the assistant scenic designer, as well as an actor. With juggling the stress of both positions, he shines light on the responsibilities that come with the job.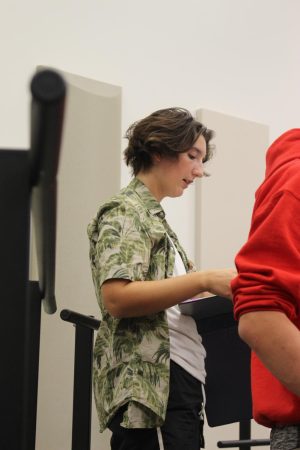 "The biggest challenge is probably getting people who don't know each other to work together," Steger said. "It's easier to get people who know each other to start working together, but when there's completely no relationship, you have to build a relationship, whereas it's easier to just connect people immediately."
When sharing similar struggles but from a different perspective, senior Maddie Dohogne speaks about the amount of commitments she puts into being an assistant director.
"As a director, you have to be there for every single rehearsal the entire time, and you can't leave until everyone else has left," Dohogne said. "It's a huge time commitment, but I think the fundamentals kind of makes up for that. It's also cool because since you're there the entire time, you get to see the entire show come together."
One thing Steger has enjoyed seeing come together as the assistant scenic designer is the backdrop for the production.
"What I think is going to be really cool is the cityscape," he said. "That's kind of like the background. That's the backdrop. That's what you look at when you see the audience. It's a bunch of trapezoids that look kind of like a city and we have lights rigged up on them so that it lights up specific cities."
When talking about Dohogne's interests on set, she is met with the eager drive to do many intriguing jobs regarding the behind the scenes of the play.
"I do really enjoy it," she said. "It's a lot of fun because I used to never be able to decide what part of theater I wanted to do. If I want to do costumes, set designer, or lighting, and being assistant director, you get to do a little bit of everything, which is just a really great thing."
Director and theatre teacher Alisha Morris talks about struggles that she is facing directing and producing the show.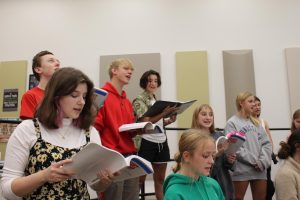 "…there's been a couple of problems with lumber supply, as well as paint supply because supply chain is all messed up right now," Morris said. "We've had trouble getting things delivered on time that we needed. I'm not even sure if I can find the black paint that covers the stage this year, because it's such in low supply and backorder right now."
However, she is also proud of the work that the cast and crew has done, despite their busy schedules.
"I have seen some kids feeling like they've overstretched themselves," she said. "Between Hamlet, [Freaky Friday], designing a lot of things, and just taking on a little bit more than they thought it was going to be. They're kind of like feeling the heat right now. We're hoping that the morale can stay up for those kids, and that we can help them take self care moments and keep their commitments."
With many fundraising events, including car washes, email blasts, and a possible Chipotle night, the theatre department gets closer to their goal for the year of $10,000.
"Every little bit helps," she said. "Our goal is $10,000 and we're about 50% of the way there."
To donate to OW theatre go to this URL link: https://www.owtheatre.com/