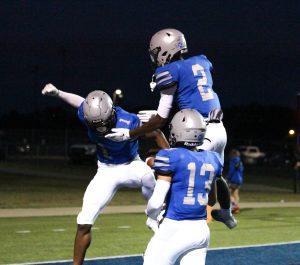 The homecoming football game took place on Friday, Sept. 22 at CBAC, resulting in the first win of the year for varsity against rival Olathe Northwest. The final score of the game was 27-7.
The game was moved 30 minutes later due to the Olathe East game the previous night having to be rescheduled for Friday afternoon.
During halftime, the underclassmen homecoming candidates were presented on the field, while the band played the alma mater.
After they listed off the final senior candidates, Ty Huber and Gabby Clinkinbeard were announced as the senior royalty winners.
"I think it's a special way to end our high school career," Clinkinbeard said. "We were nominated last year, and I think it's just a really fun thing because we've been dating for three years so this is just a really fun exciting thing."
Huber and Clinkinbeard were crowned by Student Council President senior Laci Lister and Student Council Treasurer junior Fatima Khalid. 
"I think it's great," Huber said. "West is the best school, best kids from around, great spirit, it's a blast."
After they were crowned, Huber returned to the student section to cheer on the team, while Clinkinbeard changed back into her cheer uniform and joined her teammates on the sidelines.
"I don't wanna sound cocky, but I knew it was gonna be us," Huber said. "It's just a great night to be an Owl."