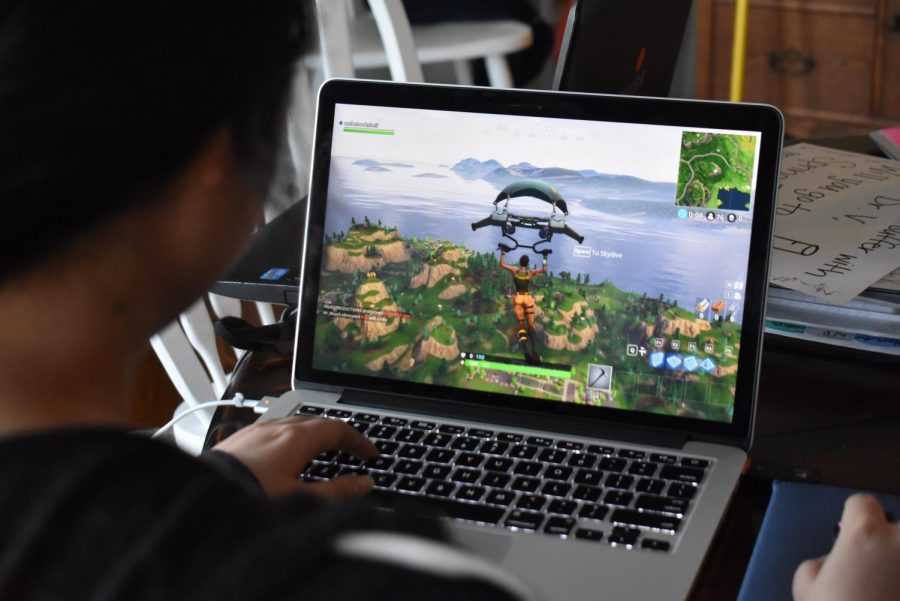 Hannah Snakenberg
Out With The Old, In With The New
April 23, 2018
Video games have evolved for the past 66 years since the creation of the first video game: OXO, which was developed by British professor by the name of Alexander Sandy Douglas. It was released in 1952. Since the 1950's, games have improved in quality and content. We noticed the sudden change in games, and the numerous videos on gameplay, and wanted to try games — both old and new — in different genres. We played two games per category: action/adventure, party/collaborative, puzzles, and apps. Both of us played all of the games, compared each game to its competitor, and decided which was the winner in each genre. Below are our ratings and reviews of each game:
*Enjoyment score system is out of a 1-10 scale, 1 being terrible, 10 being the best time of our lives
*Stamina score system is out of a 1-10 scale, 1 being around 5-10 minutes, 10 is over 2 hours
*Flexibility score system is out of a 1-10 scale, 1 being single player, 10 being multiplayer
*Replay score system is out of a 1-10 scale, 1 being never playing again, 10 is playing every single day.
Winning Games
Wii Play:
H: Wii Play was more challenging and you get to be a lot more competitive. Even though there are fewer game options, the gameplay will always be kinda different and the tank game is always a good way to spend 4 hours.
D: I thought Wii Play was cool, but there are only like 10 games to play. I wish there were more game options and collaboration options so you could play with your friends online! Overall it was really fun playing.
Fun: 8
Stamina: max an hour
Flexibility: only 2 people can play
Replay: 6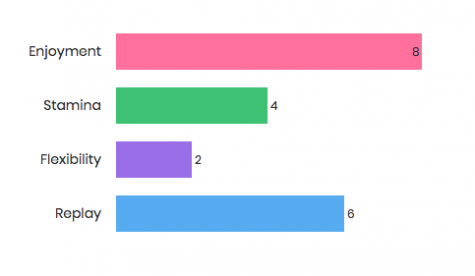 Fortnite: 
H + D: It's a pretty difficult game. You have to focus on getting supplies while also looking out for other players. I think it's only fun when you play in teams with your friends rather than by yourself or with random people. It was stressful when people got near us and we couldn't figure out how to aim, shoot, and build at the same time, but we got to the top four so it was well worth it!
Fun: 7
Stamina: max an hour
Flexibility: a group of 4 people
Replay: 6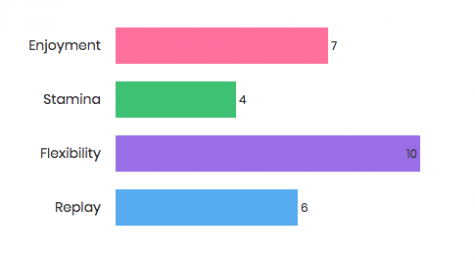 2048:
D: 2048 is a really easy and fun game. It does get a little challenging sometimes when you are stuck in a certain position and you can't get out. In my opinion, I think it should be played as a competition between friends and see who gets the higher score!
H: I love 2048 because it's challenging but not so challenging that it makes you want to give up. At the same time, it's not so easy that it gets boring after a few minutes. It was great to replay this game for the first time in months!
Fun: 9
Stamina: max 45 minutes (in one given time)
Flexibility: 1
Replay: 4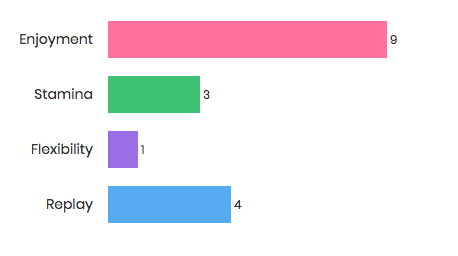 Geometry Dash: 
H: Geometry dash is a fun game if you're not doing anything. Some levels take a lot of concentration and focus and others don't and it's cool unlocking different levels. It's extremely easy to get irritated at the game.
D: Geometry dash is exciting until you keep dying as the levels get harder. The music during the gameplay gets pretty intense. I wouldn't recommend this game for rage gamers.
Fun: 5
Stamina: 10 minutes
Flexibility: 1
Replay: 7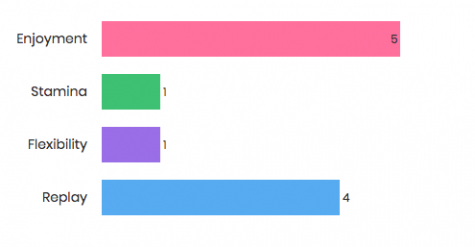 Leave a Comment
Losing Games
Wii Party:
H: Wii Party has an overwhelming amount of options and while it is pretty fun, it gets kinda boring really fast. It's less competitive because the games aren't as difficult as Wii Play, but its a lot better for playing with more people and with more options.
D: Wii Party was pretty fun, and it gave you a lot of different options to play with! I like that you can play with your friends, and solo if you wanted to. The game is really fun with more people rather than just two; highly recommend during parties.
Fun: 8
Stamina: 1 hour 30 min
Flexibility: up to 4 people
Replay: 8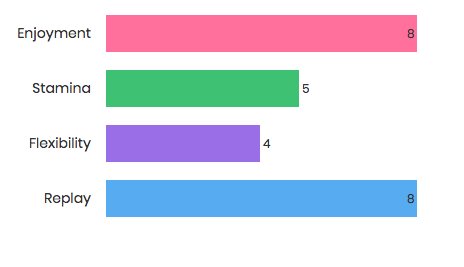 Minecraft:
D: Hunger Games Minecraft isn't fun when you're playing by yourself — it's better playing as a team with friends or family. Overall, it is a great game, but I would prefer to play it with other people than solo. Also, I don't recommend playing in hardcore mode, let's just say it was a fierce battle against a skeleton.
H: Minecraft was an overall a bad experience for me. I felt like I was going to sleep while playing. I don't know if I just didn't get the point of it or if I was playing it wrong. Also, the server was really laggy and I kept dying.
Fun: 6
Stamina: 35 min
Flexibility: solo or as many people as you want
Replay: 4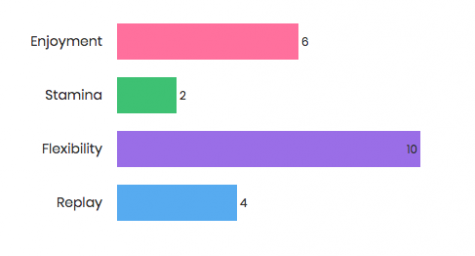 Tetris:
D: Tetris is a fun mini-game to play in free time, but it probably isn't a game to play all the time. It's great for killing time, but I wouldn't play it every single day for the rest of my life.
H: I don't remember Tetris being such a difficult game to play. After a few times, I got the hang of it but it was kinda confusing. We were playing in an app instead of on an actual Tetris player though.
Fun: 6
Stamina: 25 min
Flexibility: 1
Replay: 3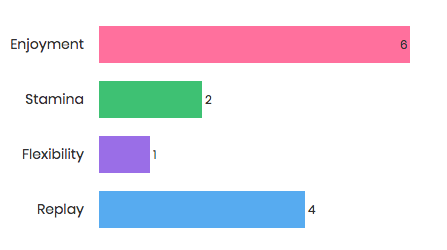 Temple Run:
D: I really liked Temple Run, it is a really fun and entertaining game to play especially when you are trying to beat your high score. I would definitely continue to play this game and challenge some other people!
H: Honestly, I prefer subway surfers. It's exactly like that. It was fun and it was easy to beat high scores. It wasn't as aggravating as geometry dash but it was still fun and competition.
Fun: 6
Stamina: max an hour (one sitting)
Flexibility: 1, but can challenge as many people
Replay: 4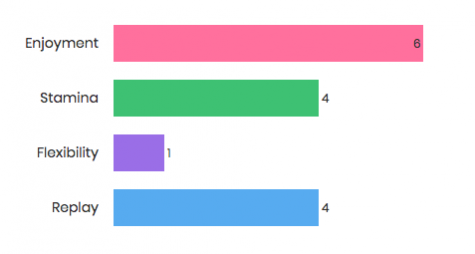 Leave a Comment