Opinion: The Lemonade Stand Down the Street is Run Better Than the NCAA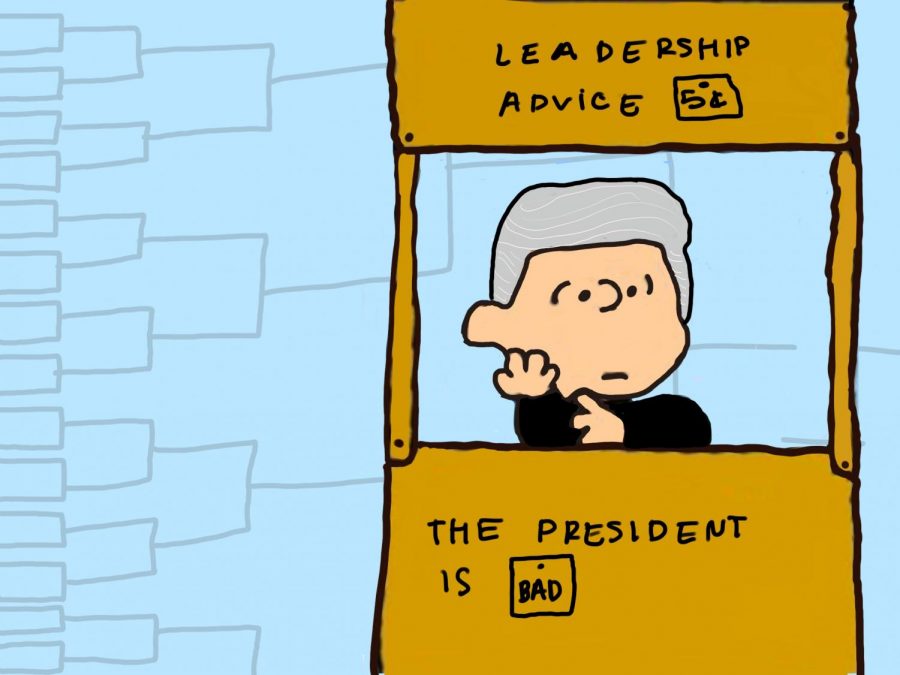 For most Kansans, except the ones in Manhattan, March is a time awaited since the season started in October, as it is "March Madness."
But, thanks to the lack of leadership in the NCAA, March Madness is now nonexistent. Only the NCAA would have the ability to take an unfortunate situation and mishandle it as they have shown us one time after another.
March Sadness will end all of the senior careers and the destiny for all of the March hopefuls, such as the Kansas Jayhawks which finished the regular season ranked No. 1 in all of the following; NET, ESPN BPI, KPI, KenPom, Sagarin, and the AP Poll. And furthermore, the Cinderella stories that we waited in anticipation that could bust our brackets or players that will soon head to the NBA, such as Dayton's Obi Toppin–they won't even get a chance to help their team to the top. Or lastly, what about the teams such as Kansas State, whose season ends in a conference tournament that wasn't even able to be finished.
Wednesday, Mar. 11, Kansas State would play the last game for any Big 12 conference team for the rest of the 2019-2020 men's basketball season. Previously that day, the Big 12 announced that after that day, the teams would play the rest of the conference tournament without fans in attendance. Additionally, on Wednesday, the NCAA announced that the tournament would go on without fans in the stands.
Thursday, Mar. 12 the Big 12, along with five other major conferences, canceled their conference tournaments, suspending play. It was only presumed, at this time, that the NCAA Tournament may be affected and this is when Twitter and the rest of the internet panicked over the possibility. Would they wait to cancel on Selection Sunday? Would they not cancel? This is where the communication and the leadership of the clown show, the NCAA, was highlighted.
The big halt would come at the half-time of the Big East quarterfinal between Creighton and St. Johns. Everyone was told to get up and go home. Every team, player, and senior that would never play again at the collegiate level or championship hopeful was told that their season was ended. Never once have I turned on sports talk radio or SportsCenter at night with Scott Van Pelt to hear no sports. This tournament was what the country and its fans and its teams were reserving March for, and it is now gone.
This scenario has revealed the leadership gaps in the NCAA and the decision making of the NCAA along with the lack of communication to the conferences. If so many coaches at respected basketball schools such as Michigan State and Kentucky were wanting to go the course of postponing the tournament, why weren't they listened to?
When announcing no fans at the Big 12 Tournament, commissioner Bob Bowlsby said, "the athletic directors have decided to give the tickets to guests of student-athletes and staff members." Bowlsby consulted the Athletic Directors on the decision because this was a conference-wide decision. He didn't come outright and say that that was going to happen. When did the NCAA consult in the conference commissioners in that part of the chain of command? If they did, we'd be talking about a whole new ball game, or actually talking about a ball game in general.
"Those relationship issues and leadership issues need to be addressed going forward," ESPN analyst and former Duke basketball player Jay Bilas said. "That doesn't require leadership change, but certainly change in leadership structure."
NCAA President Mark Emmert has been the head of the organization since June of 2004 and if you ask just about any college athlete or any Kansas Jayhawk fan specifically, that time has been more than enough. 
Jayhawk Silvio DeSousa was speculated to have taken money from Adidas to attend the school, when in fact, Adidas had paid his legal guardian back in Angola for a basketball team that she had started there for gear, equipment and such. This investigation left DeSousa with a two-year suspension. When a similar thing happened to Jameis Wiseman at Memphis this season, he was told to miss 10 games and donate the money to charities of his choice. Zion Williamson somehow received a brand new escalade and his parents started living in a brand new house upon arriving at Duke and not once was he investigated. Legal action or not, these investigations should not take a dramatic amount of time and should result in the same punishment, not a two-year unrealistic one and definitely not one that just oddly goes unnoticed.
This not only impacts men's and women's basketball, as the NCAA has canceled all the remaining winter and spring championships.
"Today, NCAA President Mark Emmert and the Board of Governors canceled the Division 1 men's and women's basketball tournaments, as well as all remaining winter and spring NCAA championships. This decision is based on the evolving COVID-19 public health threat, our ability to ensure events do not contribute to the spread of the pandemic, and the impracticality of hosting such events at any other time during this academic year given ongoing decisions by their entities."
Previously, Emmert told The Athletic on Tuesday. Mar.10, "Making sure these men and women have a chance to compete in a championship, this is an opportunity of a lifetime for them and many of them will only have one crack at this."
If Emmert cares to handle the matters of a players' health in the same way that he is supposed to care for the players' happiness, we would be playing basketball right now. Taking fans out of the sporting arenas solves the health matter, but now you have players that have worked all their life for this type of let down. Not to mention the lack of representation that they have been shown in matters outside of this such as athletes being paid for their likeness. 
Mr. Emmert, I ask you, if the athletes are your priority in this situation, why is your institution so mismanaged and why are they left without a tournament? According to the statement, postponing dates of the tournament was too much of a problem, but that wouldn't be a big deal if you truly believed what you said about how you care about athletes. After all, it is your job.
Mr. Emmert, I ask you, if you're in charge of a massive group of college athletes that rely on you to do what they love to do and get an education, then why are you failing them? Even if you grant an extra year of eligibility, why would they want to come back to your circus? Why would they come back to a school where the controlling institution would rather take the easy way out in just canceling the whole tournament than actually attempting to postpone and give them what they want, which is what they play for since a young age.
Lastly, Mr. Emmert, if the NCAA is a well-oiled machine, then why are top and consistently good basketball schools' coaches saying they agreed on postponing, but you did the opposite. Why aren't you listening to those below you like any good leader of a company does.
Leadership change may or may not be required, but even the little girl down the street from me running a lemonade stand selling at 50 cents a cup knows that without satisfied customers, you can't stay up and running. So what happens when that lemonade stand is you, and the cups are billion-dollar athletic organizations and their fans' pricey tickets that they purchased to watch them play? That's March Sadness.