Order on the Court: The Chronological Sequence of the Tennis Season
Prospective tennis players started the first week of school with a try-out process, unlike any other sport. Every player competes for their spot by playing with other competitors. They are then placed in order from strongest to weakest players. This system is called the ladder and is very intimidating for returning and new players. 
This process makes members highly competitive against each other, some might think this would make defeated teammates bitter. Senior Autumn Jones does not think the process makes the team divided. 
"We make the ladder at the beginning of the season by competing against each other, Which, you would assume, pits us against each other but honestly it doesn't, " Jones said. "We're all really cohesive as a team, despite the ladder, we kind of just disregard it and just play as a team. It's not a single sport really, it's a whole team together." 
Varsity was almost an entirely new team because of the high number of seniors on varsity last year.
Junior Kylie Krause, a new member of varsity, elaborated on how players have had to step up and become leaders.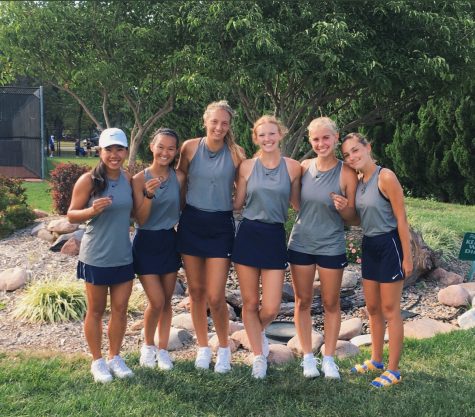 "Once they all graduated we all kind of had to step up and fill the roles," Krause said. "Autumn is the only one who has been on varsity before. So it's been a learning experience for all of us." 
The team works every day after school and attends multiple tournaments during school hours; the tennis season is very time-consuming for student-athletes. 
The players have found lots of success in their recent season. Jones has played with West for multiple seasons and discussed their successes. 
"I think we've placed metals in all of our tournaments, " Jones said. "We've won a lot of our tiebreakers. I think we've won 90% and we beat a lot of people that beat us previously which is pretty awesome." 
The team has continued to grow and win more since the school's opening, defeating teams that have previously defeated them brings the team pride according to Jones. 
The team competed at regionals on Oct. 8 and Jones is the only player who qualified. At the state competition in Wichita Autumn won her first match, but as she moved on in the competition she did not defeat Washburn Rural or Manhattan High School.