After Winning State Championship, OW Cross Country Starts New Season on a High Note
The Cross Country team took home a State Championship title last season, which was no small feat for a team only a few years old. 
"We were a very young team, and we still kind of are a pretty young team," head coach Kelsey Carbajo said. "We just kind of kept saying 'Hey, we have a shot to do this. This is going to be a pretty big goal of ours this season.'" 
To Coach Carbajo and her team, the training process for meets included not only physical exercise, but mental and lifestyle changes as well.
"There's a lot of running involved [in training] obviously, but there's other things we like to pride ourselves on," Coach Carbajo said. "We're trying to build tough kids. We want them to be mentally tough and physically tough. That requires a lot of visualization, and changing your mindset." 
After training hard all year, and implementing the lifestyle changes Coach Carbajo encouraged so heavily, the team saw great results. That is–until right before the league meet last year–which determined which teams would get to go to regionals and, ultimately, the state meet.
"They just kept getting better and better," Coach Carbajo said. "They didn't lose a meet until the week before league. We just didn't race very well. I think that kind of lit a fire under them. From league, regionals and state, they didn't look back." 
The  team ended up winning the state meet by a single point. 
Heading into a new year, the cross country season is off to a great start.
"Our boys and girls are both improving by a ton from just our first two meets that we've had," Coach Carbajo said. "We've seen huge improvements…Right now, we are faster than what we were last year."
Among the meets they've run so far, one of the team's favorites is the Twilight Meet, where this year, the boys took 10th out of 29 teams.
"That was our night meet," Coach Carbajo said. "It was a Saturday night. The girls varsity goes at 8:30 and the boys varsity went at 9 p.m., so they're running under the stars. It's a big meet, big for our community. Olathe North runs it, and there's a lot of fans that come." 
Winning meets and training hard aren't the only accomplishments the OWXC team has to show, though. Junior Aubree Blackman, who runs for varsity, was recently recognized as the KSHSAA 6A student representative.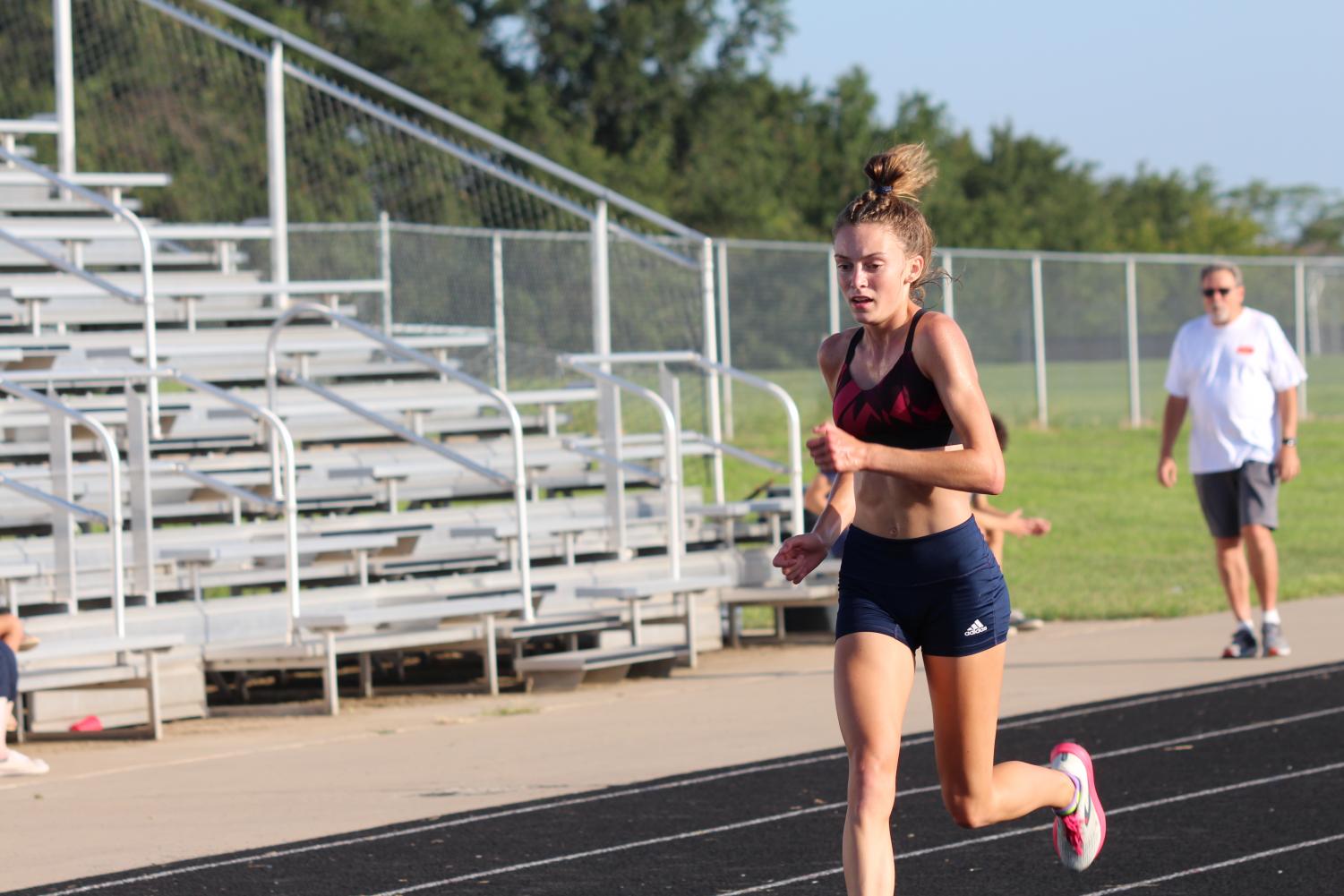 "It affects our whole school, because she's the voice of the region," Coach Carbajo said. "But then also, I think it's cool because these girls have bigger goals than just going and running really fast at a cross country race. They are doing things like the KSHSAA advisory team." 
To Coach Carbajo, more important than any award, any meet, or any championship; is the sense of community built among the cross country team. 
"Our team is such a family, and we hang out together," Coach Carbajo said. "I hope that we're building memories that they're going to look back on in 10 years, 20 years. Obviously we're trying to make good memories here."